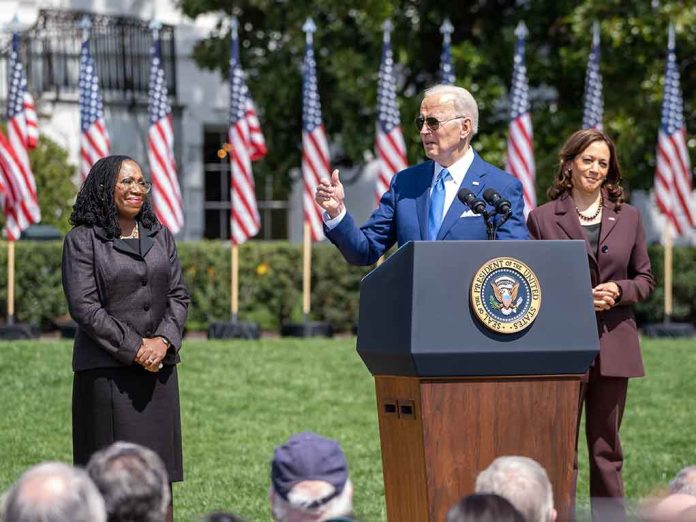 New SCOTUS Justice SWORN IN – She Has Big Shoes to Fill
(RepublicanPress.org) – On June 30, US Supreme Court Justice Stephen Breyer turned in his robes and retired after 28 years on the bench. In his place, Ketanji Brown Jackson took the seat for her lifetime appointment as the 104th associate justice on the highest court in the land. Her swearing-in marks the first time a black woman has ascended to this position.
President Joe Biden took to Twitter to commemorate the moment and praise Associate Justice Jackson.
Justice Ketanji Brown Jackson.

As I said the day she was confirmed: You'd be hard-pressed to find someone better qualified for the job. Congratulations, Justice Jackson. pic.twitter.com/HVDVPB74ZZ

— President Biden (@POTUS) June 30, 2022
The new justice's ceremony took place inside the SCOTUS West Conference Room with her family present. Jackson stood opposite Breyer with her hand on the Bible as Chief Justice John Roberts administered the oaths required for her to take a seat on the court.
After the ceremony, she released a statement where she swore to support and defend the US Constitution and serve the people of the United States.
Breyer also spoke out after the event to extend his congratulation, stating he believes Jackson will "wisely and fairly" interpret the law. He also said it has been a "great honor" of his to serve.
The newly official justice has an extensive background in the law, giving her the experience required for the position. However, some Republican lawmakers have criticized her since she was first nominated for allegedly being soft on crime. The Senate confirmed her appointment by a vote of 53 to 47 in April. Once the court begins its next session on October 3, she will take her seat.
Copyright 2022, RepublicanPress.org