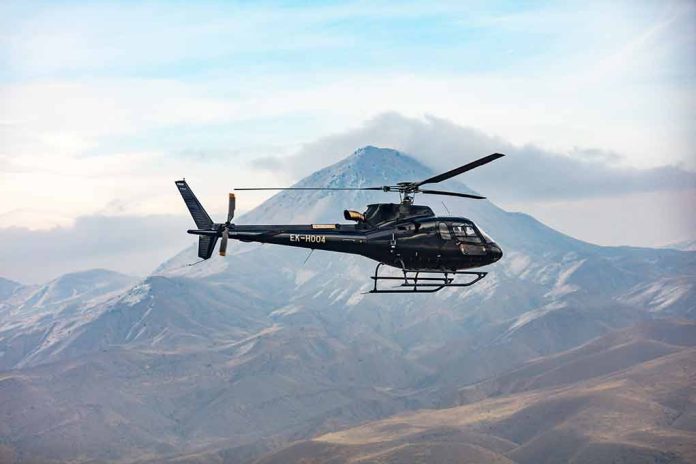 (RepublicanPress.org) – Statistically speaking, flying in a helicopter is much safer than traveling by car. However, when a chopper experiences a mechanical failure or pilot error, it typically crashes to the ground. Inversely, an auto breakdown strands its occupants on the side of a roadway. Tragically, four individuals recently lost their lives in a deadly helicopter crash along the northern slope of the Brooks Range in Alaska.
On July 23, The Associated Press reported that search and rescue divers located the bodies of three passengers and a helicopter pilot that crashed into a shallow lake in Alaska's North Slope. The Bell Longranger 206L-3 crashed on July 21 while transporting three scientists conducting fieldwork on behalf of the Alaska Department of Natural Resources.
The North Slope Borough Police Department identified the deceased pilot as Bernard "Tony" Higdon, 48. The passengers included Justin Germann, 27, and Ronald Daanen, 51, of Fairbanks, Alaska, and Tori Moore, 26, of South Bend, Indiana.
Permafrost expert and military pilot among 4 killed in a helicopter crash on Alaska's North Slope https://t.co/zHTIYbPmpf pic.twitter.com/VSBS2flZVQ

— The Independent (@Independent) July 25, 2023
The National Transportation Safety Board (NTSB) is investigating the incident. However, Clint Johnson, the head of the board's Alaska region, told reporters the difficulty in raising the wreckage could hamper those efforts. He explained that they would have to use another helicopter to accomplish that task, but they are in short supply and high demand this time of year due to area wildfires.
Maritime Helicopters operated the 1969 chopper. The company issued a statement extending its condolence to family members of the victims. It also acknowledged the loss of its "loved and respected pilot," describing him as a "consummate professional" and skilled aviator, adding that his colleagues and community would greatly miss him.
The company advised it would continue working closely with the NTSB to search for answers regarding the cause of the fatal crash. Maritime Helicopters concluded its remarks by thanking local search and rescue teams, the Red Cross, and other agencies for their assistance.
Copyright 2023, RepublicanPress.org