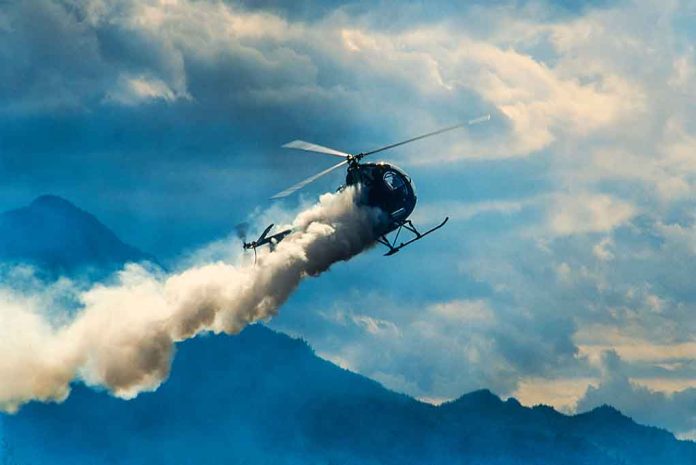 (RepublicanPress.org) – On June 19, the Federal Aviation Administration (FAA) announced that a Robinson R22 helicopter had crashed that afternoon into Cedar Lake in Indiana in the middle of the afternoon. Luckily, neither of the two people on board was injured, nor was anyone else hurt in the area. Both the FAA and the National Transportation Safety Board (NTSB) are investigating the matter to determine what went wrong during the flight.
The next day, Deputy Chief Carl Brittingham from the Cedar Lake Police Department released more information about the incident, as he was an eyewitness to the event. The deputy chief said he saw the helicopter "flying low over the lake" and noticed it was heading toward land. Unfortunately, the chopper didn't make it that far but hit the water and "spun out of control." Brittingham called for help right away and headed out on a boat with a couple of other officers to check on the passengers.
— Cedar Lake Police (@CedarLakePolice) June 20, 2023
Crews used a crane boat to safely lift the Robinson R22 out of the lake to bring it ashore. According to the Chicago Tribune, DNR officers assured that only a small amount of fluids from the aircraft leaked into the lake, and recovery personnel took special measures to contain any further leakage.
Indiana Conservation Officer Alex Neel said the water in the lake is only 8 feet deep, so the passengers were lucky they escaped the ordeal unscathed. David Crane, a local resident who heard the crash, said the survivors were brought to the shore on jet skis. Fox 32 reported the helicopter was lying on its side in the water with only one of its blades sticking out.
The aircraft reportedly belongs to a helicopter training school and tour company in Lansing — Summerskyz, Inc. The company declined to release a statement to Fox 32 following the incident.
Copyright 2023, RepublicanPress.org