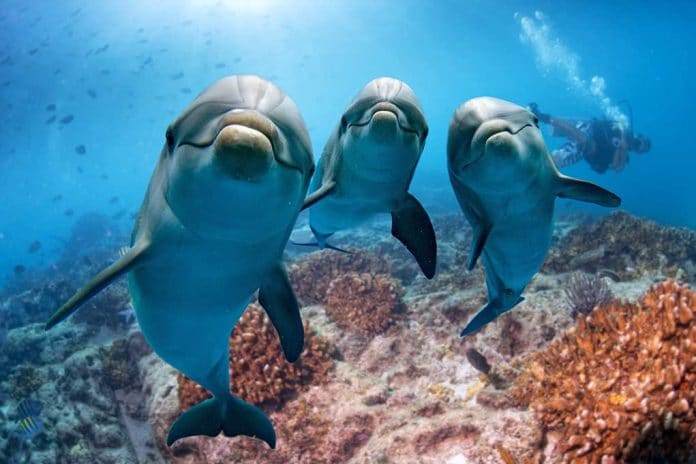 (RepublicanPress.org) – Although Palestine is situated next to the Mediterranean Sea's southern border, images of killer dolphins don't come to mind when people consider the war-torn nation or its militant Sunni-Islamic fundamentalist group Hamas. However, a recent report is destined to rework people's perceptions of the ongoing conflict between the Palestinian Authority and Israel.
The internet recently exploded with news that Hamas' Al-Qassam Brigade released a video showing a weapons system it claimed the Israeli intelligence service Mossad deployed using a "killer Zionist" spy dolphin.
#Hamas says it has identified an Israeli spy dolphin that has killed one of its commandos. Hamas has released a video that claims to show the weapon the dolphin was carrying on its head@SaroyaHem, tells you more.

Watch more: https://t.co/AXC5qRugeb pic.twitter.com/2RhMEbEW7t

— WION (@WIONews) January 13, 2022
The clip shows a member of Hamas holding up a face harness armed with a weapon resembling a spear gun reportedly worn by an Israeli dolphin that members of the militant group captured off the coast of Gaza.
Middle East research analyst Joe Truzman released a statement providing background on the video clip. According to him, a Hamas publication reported that the terrorist group encountered the dolphin, and a member was subsequently killed by the creature.
As incredulous as those allegations may appear, there is reason to believe they could be true. The US Navy developed the Marine Mammal Program in the early 1960s to determine if dolphins and other aquatic mammals could perform various underwater tasks customarily conducted by humans.
The Navy eventually deployed about 100 dolphins, sea lions, beluga whales, and other sea mammals to perform various underwater tasks like guarding submarines, delivering equipment to divers, and retrieving objects. The Navy downsized the program in the early 1990s.
Copyright 2022, RepublicanPress.org