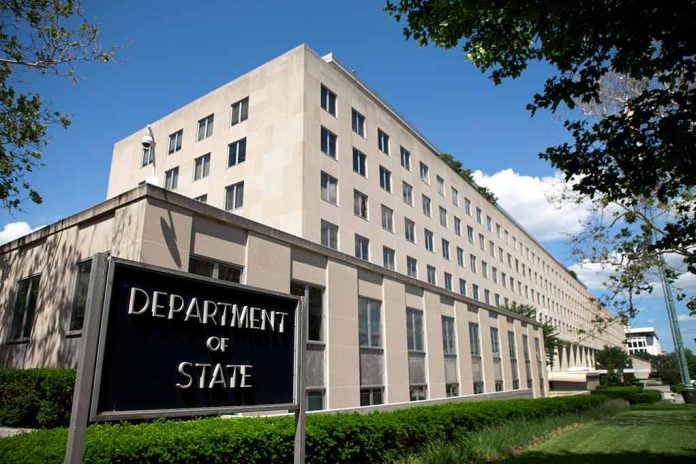 (RepublicanPress.org) – The US government has three levels of security clearance — confidential, secret, and top secret. The highest level is granted to those requiring national security information access. In order to determine which level is required, the Department of State's Bureau of Global Talent Management evaluates each job to decide what is appropriate. Even though employees who get those positions undergo a rigorous process, sometimes they don't honor the responsibility bestowed upon them.
On September 21, the State Department issued a press statement announcing that a government contractor was arrested in April for allegedly disclosing classified national defense information without authorization. During a 60-day internal review of the department's Top Secret/Sensitive Compartmented Information (TS/SCI) activities, it was determined that an information technology (IT) contractor might have shared top secret intel. The State Department's spokesperson, Matthew Miller, said the entity unsealed the charges against this man, making the information available to the public.
U.S. Government Contractor Arrested on Espionage Charges https://t.co/ZN4zXcKtvk @JusticeOIG @StateDeptDSS

— FBI Washington Field (@FBIWFO) September 21, 2023
CBS News identified the man as Abraham Teklu Lemma, a naturalized US citizen of African descent. Sources familiar with the matter told the news outlet that Lemma had apparently been sharing information with Ethiopia. Court documents revealed that the State Department believes Lemma transmitted classified documents, photographs, notes, maps, and other information to a foreign country, starting in 2022. That top-secret information also allegedly included satellite imagery. Prosecutors also accused the contractor of burning CDs or DVDs with intelligence information without permission.
Lemma is charged with multiple federal charges for gathering defense information or transmitting it to a foreign government, in addition to unauthorized possession and retention of national defense information. If convicted, he could face the death penalty for espionage or spend the rest of his life in prison.
Miller thanked the FBI and the DOJ for their hard work while pledging to fully cooperate with anything those departments need going forward to complete their investigation.
Copyright 2023, RepublicanPress.org