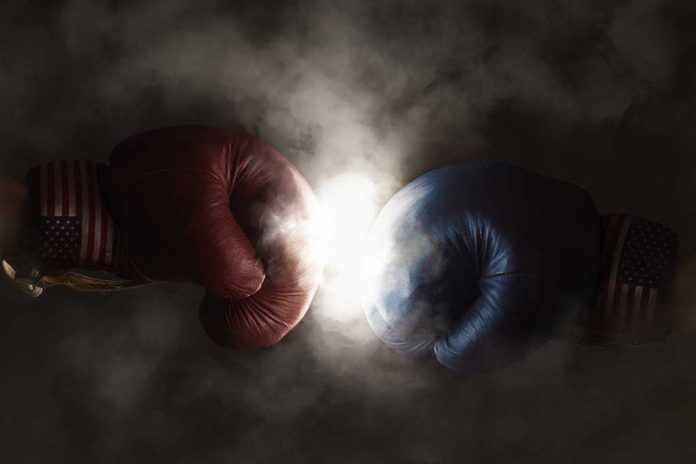 (RepublicanPress.org) – On February 7, President Joe Biden delivered his second State of the Union (SOTU) address before a bipartisan crowd of lawmakers and onlookers inside the US Capitol Building. As tradition dictates, the president's opposing party gave a speech. The party typically selects a politician it wants to highlight or someone it considers a rising star within the party. This year, Republicans selected Arkansas Gov. Sarah Huckabee to present their rebuttal to the president's address.
Soon after the conclusion of Biden's speech, the Republican took to the airwaves to push back on several key points highlighted throughout the president's speech. The Epoch Times reported that one of the reasons the GOP chose Sanders was because of her age. At 40 years of age, Sanders is the youngest governor in the union, whereas Biden, at 80, is the oldest president in history. The young politician didn't hold back in her rebuttal, delivering a scathing 15-minute speech that she suggested drew a line between "normal and crazy."
"The dividing line in America is no longer between right or left. The choice is between normal and crazy."
– Ark. Gov. Sarah Huckabee Sanders in response to Biden's #SOTU address.

Freedom vs. 'More Government Control'https://t.co/sFEoQC0wYF

— Nanette Holt (@NanReportsNews) February 8, 2023
Sanders' takeaway from President Biden's speech seemed to be that Democrats want to increase governmental control over the people, stating the Commander in Chief is "too weak" to keep progressives at bay. She claimed the extreme Left was running the Democratic party with the goal of taking away American freedom. On the other hand, she stated government officials should do the exact opposite — to "serve the people" who elected them into office.
Throughout her speech, the governor addressed high inflation, violent crime, the border crisis, and increasing threats from China — all topics she believes are failures of the Biden administration and Democratic lawmakers. Sanders called for change, claiming that the president and the "radical left" teach hate and are responsible for out-of-control prices. In the end, she said Republicans will fight for the future of America, but ultimately the situation is in God's hands.
Copyright 2023, RepublicanPress.org