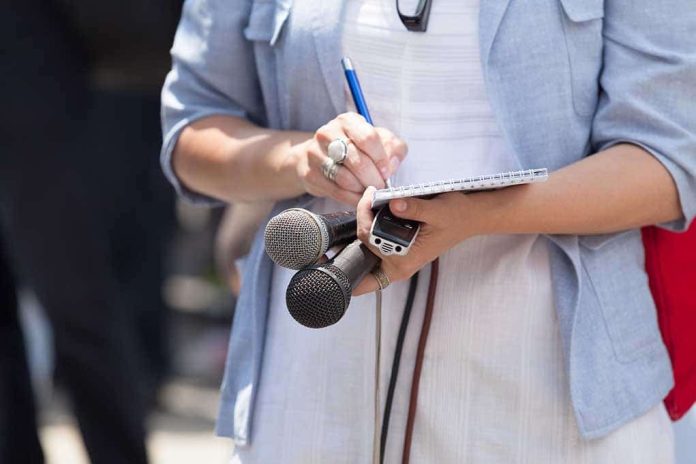 (RepublicanPress.org) – On January 21, House Minority Leader Hakeem Jeffries (D-NY) requested that House Speaker Kevin McCarthy (R-CA) seat both California Democratic Reps. Eric Swalwell and Adam Schiff on the House Intelligence Committee. He noted that both men have been public servants for more than 20 years and that they were more than qualified. Three days later, McCarthy responded, rejecting the Democratic leader's request, which led to a tense discussion with a reporter.
I have rejected the appointments of Adam Schiff and Eric Swalwell for the House Intelligence Committee.

I am committed to returning the @HouseIntel Committee to one of genuine honesty and credibility that regains the trust of the American people. pic.twitter.com/ePxlbanxta

— Kevin McCarthy (@SpeakerMcCarthy) January 25, 2023
On January 24, McCarthy spoke to reporters outside of his office. One journalist, Lisa Desjardins, asked the speaker how he could justify placing controversial Rep. George Santos (R-NY) on committees, given his record, but not seat Schiff and Swalwell, who both have extensive records in the House. Before he could answer, the PBS reporter interrupted him. McCarthy then made it clear he would decide which questions to answer and not the other way around.
The House speaker then proceeded to answer the reporter's question. He said in all cases, voters in the representatives' districts elected them, so they would all sit on committees. However, he said that the Intel Committee was different. Legislators in that group are privy to secret information not available to the public or other congressional members. Lawmakers on that committee, thereby, need to be of the utmost integrity.
McCarthy accused Schiff of using his position on the committee to lie to the public previously. He also pointed to Swalwell's connection to a Chinese spy as a reason he shouldn't sit on Intel.
McCarthy also told the reporter that he wasn't interested in behaving like the Democrats when they controlled the House. He stated that he wasn't keeping the legislators off of committees altogether. Schiff, Swalwell, and Santos will all get committee assignments.
The House speaker ended the exchange by saying "integrity matters" to him.
Copyright 2023, RepublicanPress.org