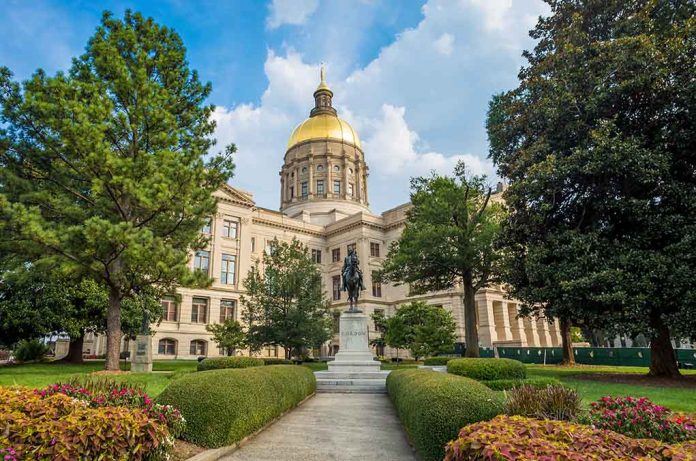 Georgia House Speaker Has Reportedly Died
(RepublicanPress.org) – On November 4, Georgia's Republican House Speaker David Ralston announced that he wouldn't seek his party's nomination to lead the chamber in the upcoming 2023-2024 legislative session. He expressed his "heartfelt" gratitude to his colleagues, stating that he needed to "take time to address" an unnamed "health challenge." His struggles ended less than two weeks later, and he passed away.
Kaleb McMichen, Ralston's communications director, posted a statement on Twitter on November 16 announcing the speaker died "following an extended illness." He also noted that Ralston's wife and other family members were with him when he passed away.
Speaker David Ralston (R-Blue Ridge), 73rd Speaker of the Georgia House of Representatives, passed away today following an extended illness. He was 68 years old.

His loving wife, Sheree, and members of their family were with him when he passed. #gapol

— Kaleb McMichen (@KalebMcMichen) November 16, 2022
Political figures from both sides of the aisle quickly expressed their condolences. Republican State Senator and Lieutenant Governor-elect Burt Jones took to Twitter to praise Ralston's public service, calling him a compassionate leader "who always put the people of Georgia first."
My statement on the passing of Speaker David Ralston: pic.twitter.com/BT5GomIu4S

— Burt Jones (@burtjonesforga) November 16, 2022
Georgia State Representative Houston Gaines (R) posted a lengthy tribute to Speaker Ralston, expressing his gratitude for years of service, and US Senator Raphael Warnock (D-GA) offered his prayers for Speaker Ralston's family members and praised the speaker's "leadership and civility."
David Ralston was an unbelievable leader. There was simply no one finer our state has ever seen. He was our Speaker — he helped guide Georgia through some tough times. He's made our state a better, kinder place. And he's made so many of us better human beings. (1/5) pic.twitter.com/aQ4VZIWNzP

— Houston Gaines (@houstongaines) November 16, 2022
Ralston served in the Georgia State Senate from 1992 to 1998. Georgians first elected him to the state's House of Representatives in 2002. He presided over the chamber since 2010, making him the state's longest-serving speaker.
Copyright 2022, RepublicanPress.org