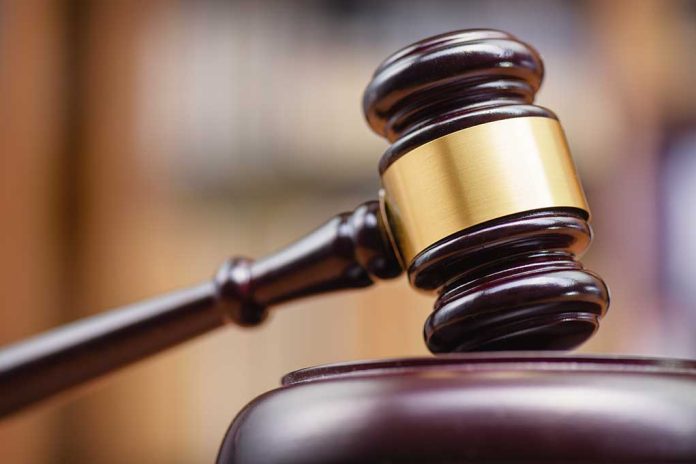 Man Starting Treatment Program After Allegedly Attacking GOP Candidate
(RepublicanPress.org) – Over the summer, David Jakubonis reportedly hopped on stage at a campaign event in Rochester, New York and attacked Representative Lee Zeldin (R-NY) as he was speaking to his constituents. The man was allegedly wearing a weapon on his fingers and lunged at the congressman to presumably do him harm. Zeldin defended himself and others jumped in to help. Police arrested Jakubonis and charged him with attempted assault.
On October 20, the New York Post reported US Magistrate Judge Marian Payson decided to release the suspect before and during the trial as long as the Army veteran met certain conditions. Jakubonis must enter and complete a 28-day alcohol treatment program with the Veterans Administration, wear a GPS monitor, and regularly subject himself to alcohol testing.
David Jakubonis, the veteran who crashed Lee Zeldin's stage with a pointed object in suburban Rochester, will be released from prison into a VA treatment program.

Zeldin's statement: pic.twitter.com/fH7jZZ6zms

— Jon Campbell (@JonCampbellNY) October 20, 2022
If the defendant doesn't comply with any of those requirements, he will again appear before the judge for re-evaluation. The suspect's attorney, John DeMarco, was happy with the result because his client can now start the rehabilitation process. He reportedly suffers from PTSD and substance abuse problems.
Zeldin issued a statement about the decision, saying the combat vet is "battling invisible demons," saying he was glad Jakubonis would get help for his issues. He also commended the judge for her decision.
The defendant still faces felony charges for the alleged attack. As he addresses the charges, however, he'll be undergoing treatment. According to reports, Jakubonis was set to be released from jail on Monday, October 24.
Copyright 2022, RepublicanPress.org