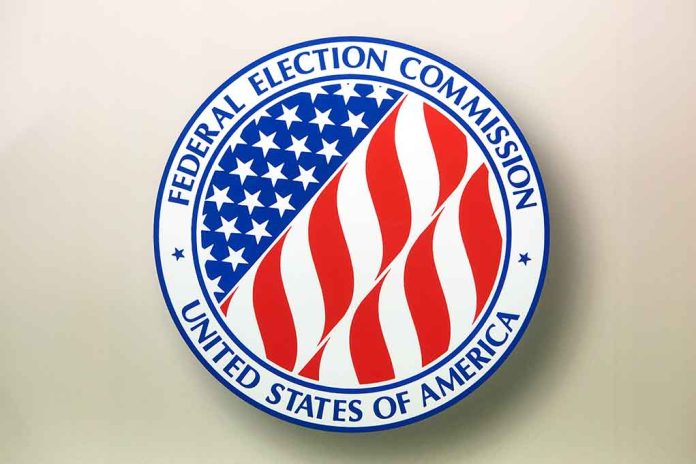 (RepublicanPress.org) – Freshman congressman Rep. George Santos (R-NY) continues to find himself mired in controversy surrounding questionable claims he made about his past while campaigning for office in 2022. He also faces multiple criminal and congressional investigations for potential crimes involving his fundraising efforts and sources. He recently revealed the name of his new campaign treasurer amid scrutiny from the Federal Election Commission (FEC).
On February 14, the FEC sent a one-page form letter to Santos advising him that it recently came to the commission's attention that the treasurer for Devolder-Santos for Congress had resigned. The notice explained it hadn't yet received any information regarding a replacement.
According to federal regulation (11 CFR § 102.2(a)(2)), election committees cannot conduct any business in the absence of an active treasurer. The FEC notice, bearing the identification number C00721365, gave Santos until March 21 to respond.
On February 21, Santos' campaign committee responded by submitting an amended FEC Form 1, Statement of Organization, naming Andrew Olson as its new treasurer. The form didn't list a designated agent (assistant treasurer).
Rep. George Santos picks new campaign treasurer days after FEC warning https://t.co/hRUgxdOZHf pic.twitter.com/wGh3IJW0gc

— New York Post (@nypost) February 22, 2023
Media outlets reported that little is known about Olson, and so far, he hasn't responded to email requests from the New York Post and CNN. A review of federal records shows that he hasn't served as treasurer for any other campaigns.
The address listed on the amended form is the same one used by Santos in previous filings as his. Coincidentally, Santos' sister, Tiffany Santos, recently settled a $39,050 back rent claim on the property with the landlord. The Daily Mail reported that she vacated the Queens, New York, apartment on January 18. It remains unclear who currently resides there.
Santos' previous campaign manager, Nancy Marks, resigned in January amid mounting questions regarding the embattled congressman's fundraising efforts, past and present.
Santos' recent filing hasn't resolved his outstanding issues with the FEC. On February 7, the commission sent him a notice directing him to either disavow campaign donations he received in excess of $5,000 for the 2025 election cycle or file a Statement of Candidacy, FEC Form 2, within 35 days.
Copyright 2023, RepublicanPress.org