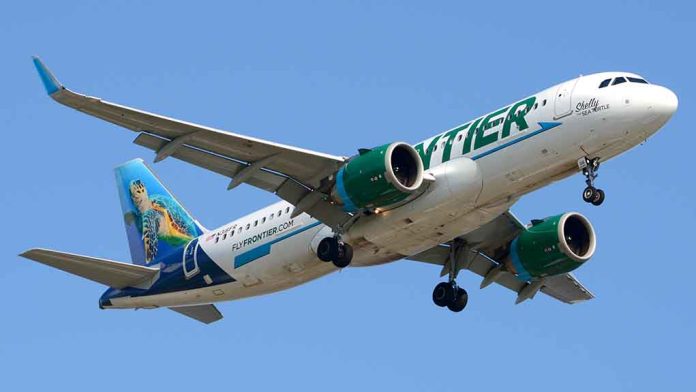 (RepublicanPress.org) – Palm Beach International Airport (PBIA) in Florida has been rated among the top 10 best airports in the world. The airport hosts 13 different airlines and sees about 150 commercial flights in and out of the facility on a daily basis. One of those airlines, Frontier, recently had quite a scare, leading to a delay in flights that lasted for several hours.
On January 24, Palm Beach County Sheriff's Spokesperson Teri Barbera told Fox News Digital that a man was on board a flight to Pennsylvania when he allegedly mentioned he had an explosive in his bag. Officials evacuated flight 2346 and shut down Concourse C for three hours until investigators could evaluate the situation. Seven flights were delayed but resumed after the local bomb squad determined there was no threat. The FBI arrested the suspect, later identified as 66-year-old John Magee, a New Jersey resident.
PBSO is investigating an incident at PBI. Concourse C has been evacuated. Check with your airline for flight status.

— Palm Beach International Airport (@flyPBI) January 25, 2023
Professionals reportedly brought in bomb-sniffing dogs to check the bags in question but found no explosives. A passenger present on the flight told WPTV that the man was chatty, complaining about how heavy his bag was, indicating he had drugs inside. However, that person didn't hear the suspect mention a bomb. Another person on the plane, Luana Cordeiro, said she watched police remove the man from the plane, but she wasn't afraid. She assumed he just "said something really stupid." Rumors apparently spread around the cabin, with passengers speculating about what was happening and wondering if the flight would take off at all. Some were growing frustrated about the lack of communication at the time.
Although most flights resumed by 10:30 p.m., the senior director of corporate communications said that Frontier was supplying accommodations for those affected by the scare and subsequent delays.
Magee made his first court appearance on Wednesday, January 25. He is being charged with a second-degree felony for allegedly making a false report concerning a bomb. The judge granted him a bond of $30,000.
Copyright 2023, RepublicanPress.org