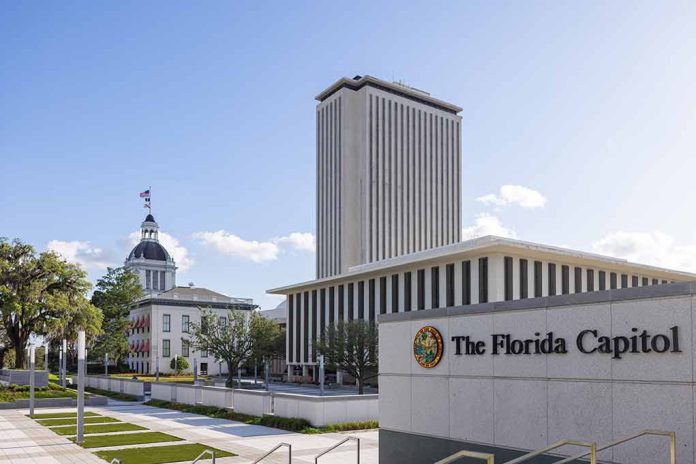 (RepublicanPress.org) – Florida Governor Ron DeSantis (R) has yet to announce whether he's running for the Republican nomination for president in 2024, but his travel habits lately indicate that may be his intent. He recently went on a tour around the world, and reports questioned who was paying his travel expenses. A recent Florida bill, if signed by the governor himself, could keep that information secret from the state's taxpayers entirely.
On May 2, the Florida House passed SB 1616 by a vote of 84 to 31. The legislation would hide all past and future travel records of the governor, his family, the lieutenant governor, the state House speaker, his cabinet members, the Senate president, and the chief justice of the Florida Supreme Court from public view. Democrats claim the bill goes one step further, preventing Florida residents and others from finding out who the governor meets with and where he goes.
The Florida Center for Government Accountability reacted to the bill, questioning why DeSantis wants to keep this information a secret.
WHY "keep secret "travel records" and "records pertaining to transportation" for public figures and their entourages, including "logistical" information related to traveling to and from events"????? https://t.co/7dfXhnoA7v

— Florida Center for Government Accountability (@FLCTRGA) March 24, 2023
Action News Jax reported the governor reacted to questions about the legislation during a bill-signing event, stating the measure didn't come from him. He said the move was more about security than anything else, adding he gets threats all the time and the bill might prevent nefarious people from tracking his and others' movements. According to POLITICO, the bill's sponsor, state Rep. Jeff Holcomb (R), indicated the governor's travel log for his book promotion or possibly future campaign would still be available.
However, some Democrats aren't buying it. State Rep. Anna Eskamani (D) said the legislature shouldn't "bend laws" to benefit any one person to benefit their "political aspirations." Her colleague, state Rep. Ashley Gantt, said Florida needs to maintain its current "level of transparency."
Given the governor's previous remarks, it's likely he is going to sign off on the bill when it hits his desk.
Copyright 2023, RepublicanPress.org