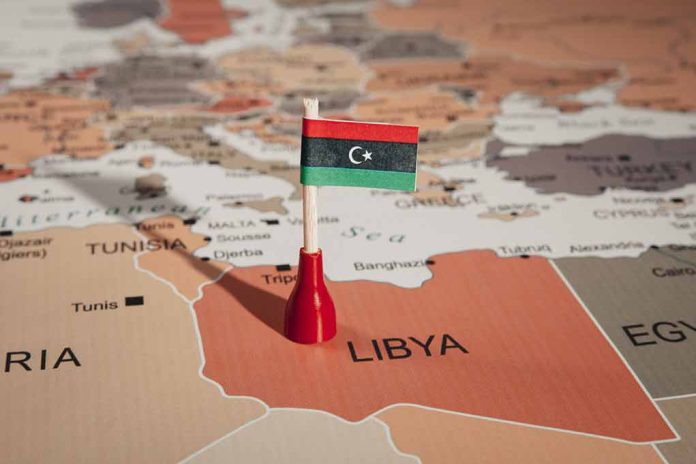 (RepublicanPress.org) – Northern Africa has experienced more than its fair share of natural disasters over the last couple of weeks. A 6.8 magnitude earthquake struck a remote mountainous area of south-central Morocco shortly after 11:00 p.m. local time on Friday, September 8. Two days later, Storm Daniel, the costliest tropical-like Mediterranean cyclone in recorded history, struck land near Benghazi, Libya, leading to thousands of deaths.
Here's what happened.
Storm Daniel Sweeps Across Libya
The weather event started developing as a low-pressure system over the Ionian Sea on Monday, September 4. The following day, it reached the level of a cyclone, and the Hellenic National Meteorological Service (EMY for its Greek name: Εθνική Μετεωρολογική Υπηρεσία) named it Storm Daniel. Then, on Wednesday, the EMY issued a red alert as it neared landfall.
Over the next few days, the storm system strengthened, reaching wind speeds as high as 52 mph before it struck Benghazi on Sunday, September 10. Daniel moved inland on an easterly trajectory before entirely dissipating two days later.
Unfortunately, due to Storm Daniel's sudden and short-lived nature, Libyans were ill-prepared for the weather event's aftermath.
Flooding Leads Accompanies Storm Daniel, Leading to Thousands of Deaths
On September 12, the World Meteorological Organization (WMO) issued a press release detailing the extreme levels of rainfall and flooding that ravaged the Mediterranean and the accompanying loss of life in Libya in the wake of Storm Daniel. The report noted that the storm stuck portions of Bulgaria, Greece, and Turkey but impacted Libya the worst.
The Libyan Red Crescent Society (LRCS) and the International Federation of the Red Cross (IFRC) told the WMO that local authorities reported that as many as 10,000 individuals were missing in Libya due to devastating floods. Those agencies couldn't confirm the number of deaths yet. However, CBS News reported that a spokesperson for the country's Interior Ministry said the death toll exceeded 5.300 people in the north-eastern coastal city of Derna. More recently, AP News reported that according to an aid group, the death toll had topped 11,300, with up to 20,000 feared dead, according to other outlets.
The WMO reported that entire neighborhoods in that metropolitan area with a population of about 90,000 disappeared after two nearby dams ruptured. Additionally, the flooding swept an untold number of residents out to sea.
Death Toll Expected To Rise
Tamer Ramadan, the Libyan envoy for the LRCS and IFRC, told reporters attending a video conference hosted by the United Nations that the confirmed death toll was "huge." He said they expected it to increase by the thousands over the next few days.
Libya's Civil Aviation Minister echoed those concerns during a telephone interview. He said he had visited Derna and described the situation as "very disastrous." He confirmed the presence of bodies "lying everywhere — in the sea… valleys, [and] under buildings."
Libyan government officials called for three days of mourning in all the impacted locales, dubbing them "Disaster Areas."
Copyright 2023, RepublicanPress.org