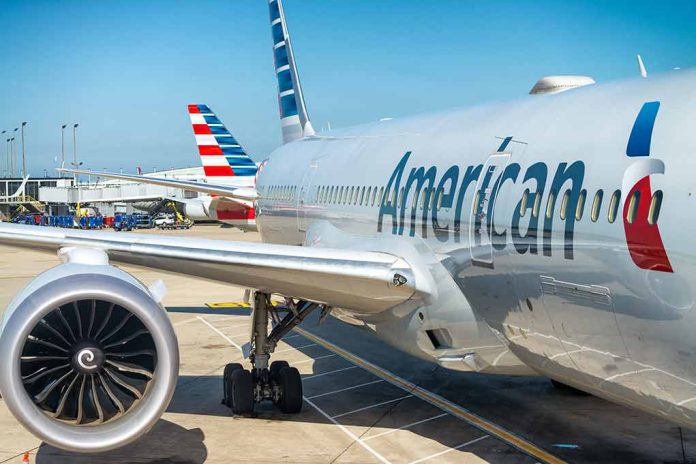 (RepublicanPress.org) – Rules shared by the Transportation Security Administration (TSA) state that passengers can pack one four-ounce container of pepper spray in their checked bag. The stipulations to the rule include the device must have a safety mechanism and cannot contain over 2% tear gas. In addition, pepper spray in a passenger's carry-on luggage is prohibited. However, a pilot recently had to divert a flight because of a pepper spray incident in the cabin.
On August 20, the Federal Aviation Administration (FAA) announced that American Airlines Flight 1680 was on its way to LaGuardia Airport in New York but had to temporarily divert to Jacksonville International Airport in Florida. The administration reported that a bottle of pepper spray accidentally discharged, and the crew had to air out the Boeing 737 before continuing the flight. The FAA said it would investigate the matter.
American Airlines flight bound for LaGuardia diverts due to pepper spray incident https://t.co/pSCMhBEH4x pic.twitter.com/sushDAcXnO

— Eyewitness News (@ABC7NY) August 22, 2023
After cleaning the plane, the flight continued to its destination. However, Insider reported the passengers didn't continue in the Boeing but switched to another aircraft to reach New York. An email to the outlet from a woman on the plane said that pepper spray doesn't discharge accidentally, the device was pointed away from the user's family, and the female passenger holding the pepper spray didn't want to relinquish the device — nor did she apologize.
USA Today reported that an American Airlines spokesperson said there were no injuries during the incident but provided little other details about the incident — namely, how the pepper spray ended up on the plane. One passenger reportedly commended the crew for how they handled the situation but admitted the event was "scary."
There is no word yet on whether the passenger will face any consequences for the incident. So far, her name has not been released to the public.
Copyright 2023, RepublicanPress.org