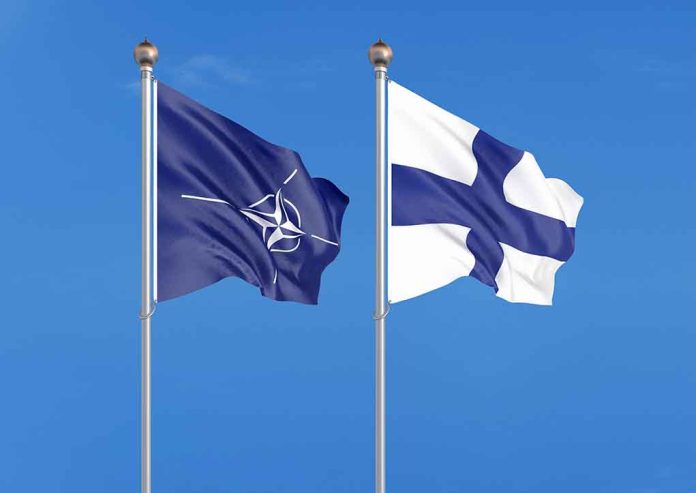 (RepublicanPress.org) – Türkiye's parliament decided to ratify Finland's application to join the North Atlantic Treaty Organization (NATO) on March 30. Out of the 30-member alliance, Türkiye was the last to agree that the Nordic country could become a full-fledged member state. NATO Secretary General Jens Stoltenberg said the addition will only make the organization stronger.
A few days later, the New York Post announced that Stoltenberg said Finland would officially be the 31st member of NATO starting on April 4, when Türkiye submitted their approval to the US State Department. Finland and Sweden both applied for membership in the military alliance in May 2022 following Russia's invasion of Ukraine.
While Türkiye finally decided to ratify the application for Finland, Sweden's bid is still on hold. The government believes Sweden's stance against terrorist groups isn't strong enough.
And so the map turned all green. 

Sincere thanks to all 30 Allies for ratifying Finland's #NATO membership.#FinlandNATO pic.twitter.com/JZ4HZ6ACqd

— Finland at NATO (@FinMissionNATO) March 31, 2023
The Associated Press reported that Stoltenberg said April 4 would be a "good day for Finland's security," in addition to the Nordic region and the organization itself. They raised the country's flag at NATO headquarters to commemorate the event and show their acceptance into the alliance. Finnish Foreign Minister Pekka Haavisto called his country's membership "historic" while committing to "promote stability and security" in the region. Haavisto attended the ceremony along with Finland's Defense Minister Antti Kaikkonen and President Sauli Niinistö. On the day of the event, Niinistö posted a statement on Twitter saying that the decision to join NATO would be mutually beneficial for the security of Finland and the alliance.
The addition of Finland gives NATO a larger border with Russia. The Nordic nation shares an 832-mile border with the warring country. Middle East and North Africa analyst Hamish Kinnear said Finland adds an "important strategic location" to the military alliance. Russia reportedly warned it intends to beef up defenses near the shared border if leaders find out any NATO troops are deployed to the area. Russia's Deputy Foreign Minister Alexander Grushko said the alliance's expansion would prompt "additional steps" to ensure the country's security. According to The Moscow Times, a Kremlin spokesperson also said on April 4 that the move would prompt "countermeasures" to protect the "tactical and strategic security" of Russia.
Copyright 2023, RepublicanPress.org