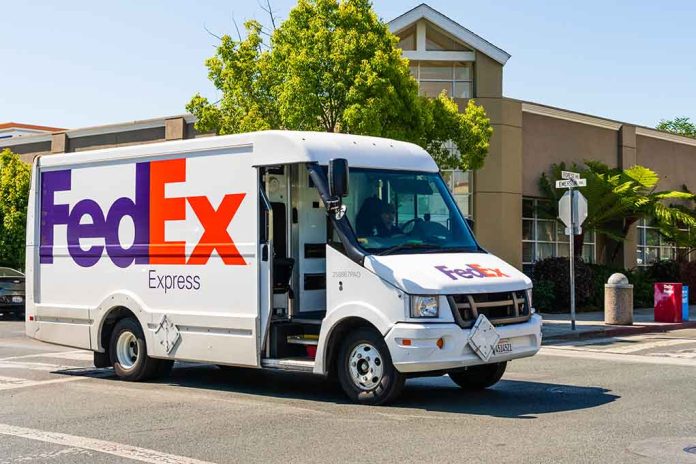 (RepublicanPress.org) – Police arrested 31-year-old Tanner Lynn Horner on December 2, after he allegedly murdered 7-year-old Athena Strand during the course of his FedEx delivery route. Now, the child's father, Jacob Strand, is suing the driver, along with FedEx and contracting company Big Topspin, for damages. He's asking for over $1 million.
Athena Strand's Father Sues FedEx and Driver Accused of Murdering the 7-Year-Old Girl 'with His Bare Hands' in the Back of a Delivery Vanhttps://t.co/vMHsjiUGGS

— Law & Crime (@lawcrimenews) December 15, 2022
Horner allegedly took Athena Strand into his FedEx van after he'd accidentally hit the girl in her front yard. She wasn't terribly injured, but apparently he decided to kill her to cover his tracks. After attempts to break the little girl's neck failed, he claimed he strangled her.
According to the lawsuit, both FedEx and the company it contracted, Big Topspin, should accept responsibility for the murder alongside Horner, because they failed to properly perform a background check on the man. Neither appeared to take into account the defendant's mental health, criminal past, or employment history when they hired him. Still, they'd entrusted the driver with a company van and uniform, both of which displayed the highly official-appearing FedEx logo — a grossly negligent move, according to the court filing. It points toward a rash of violent crimes that have occurred in recent months at the hands of other uniformed drivers, many of which might have been prevented with better screening and employee monitoring.
The lawsuit claims Horner's blatant disregard for the 7-year-old's life has left a mountain of damages that include medical bills, burial expenses, lost work, lost companionship, pain and suffering, and mental anguish. The defendant, who's currently being held on a $1.5-million bond, also faces criminal charges for capital murder and aggravated kidnapping.
Copyright 2022, RepublicanPress.org