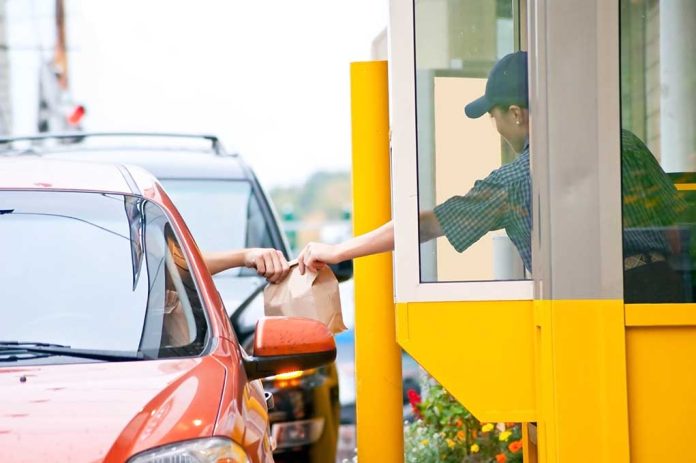 (RepublicanPress.org) – Artificial intelligence (AI) is taking the country by storm, although the technology isn't new. Generative AI (GenAI) has been around since the 1960s but didn't gain widespread use until 2014 with the introduction of a machine learning algorithm that can create convincingly authentic audio, video, and images. You're familiar with GenAI if you have used Alexa or Siri on your smartphone or interacted with customer service chatbots that help you find your way around websites. A recent report indicates that one of America's top fast-food chains is preparing to test a new AI chatbot.
On May 9, Wendy's issued a press release detailing its decision to expand its ongoing partnership with Google Cloud GenAI services to "pilot a groundbreaking" AI solution called Wendy's FreshAI. The noted hamburger chain plans to use the new system to service its drive-thrus, which represents roughly 75% to 80% of its sales.
Wendy's just created an automatic AI-powered order taker, with help from Google

They're launching the concept at a Wendy's in Columbus, Ohio

AI is taking over the world pic.twitter.com/WEVQu1XPh2

— Genevieve Roch-Decter, CFA (@GRDecter) May 11, 2023
The company plans to launch its first pilot of the Wendy's FreshAI system in June at a company-owned restaurant in the Columbus, Ohio, market. Using GenAI and Vertex AI technologies, the system will converse with customers, respond to frequently asked questions, and understand and take "made-to-order requests."
Wendy's CEO and President Todd Penegor stressed that using Google Cloud's GenAI technology will create an opportunity for his company to "deliver" a truly unique, fast, and "frictionless experience" for its drive-thru customers. At the same time, it will help workers focus on making "great food and building relationships" with customers.
Google Cloud CEO Thomas Kurian echoed that sentiment, adding that GenAI is already "fundamentally" altering how individuals interact with businesses. He said that he anticipates that Wendy's use of the technology will "set a new standard for… experiences [in] the quick-service industry."
. @McDonalds & @SUBWAY just unveiled new contactless technology for takeout and drive-thru orders. See 13 chains adding tech to augment labor and speed up service for #digital customers.
via @BusinessInsider https://t.co/9vvfwmnThU pic.twitter.com/Lql9QWrozU

— FastFoodMaven (@FastFoodMaven) December 6, 2022
Wendy's joins a growing number of fast-food chains using GenAI to take drive-thru and phone orders, including Carls' Jr., Chipotle, Domino's, Hardee's, McDonald's, Popeyes, Taco Bell, Subway, and Wingstop. Several other AI companies are providing the technology now, like ConverseNow, OpenCity, Presto Automation, and Valyant AI.
Copyright 2023, RepublicanPress.org