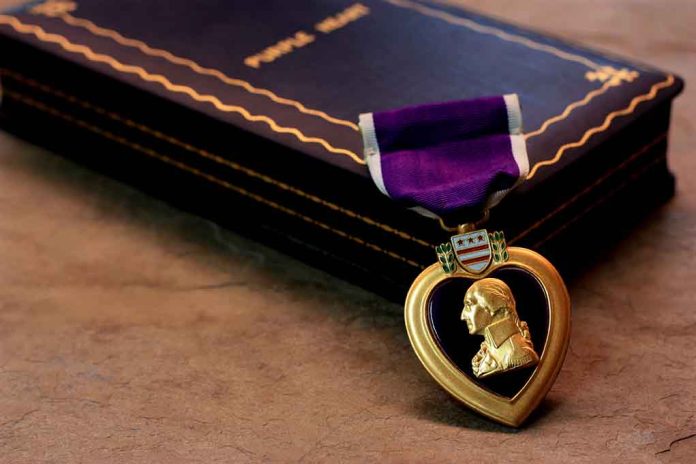 (RepublicanPress.org) – George Washington established the Purple Heart in 1782 to honor wounded or killed service members. However, it was formally set aside until the Defense Department's predecessor, the War Department, re-established the award on the 200th anniversary of George Washington's birth on February 22, 1932. Family members of two US Coast Guard (USCG) members killed during the First World War recently received Purple Heart medals on behalf of their ancestors.
On March 16, Coast Guard Captain Michael Kahle presented the awards to the families of James Alexander Frost, Jr, and Angus Nelson MacLean. Both former servicemembers died after a German submarine sunk the USCG Cutter the Tampa with a torpedo near the Coast of Wales on September 26, 1918. A total of 135 troops died during the incident, including 111 USCG members, four US Navy sailors, and 15 British Navy seamen.
Families of Coast Guardsmen killed in World War I receive relatives' Purple Hearts https://t.co/bqlPFfqFqz via @foxnews

— Chris 🇺🇸 (@Chris_1791) March 17, 2023
Little is known about the two men's military service, but a 48-page document released by the USCG Historian's Office in August 2020 titled "Remember the Tampa" provides some details.
Frost served as a 1st Lieutenant on the Tampa. The oldest of 13 and the only boy, he received honors for his gallantry while leading a rescue party during a flood in Galveston, Texas, prior to enlisting in the USCG. He was 30 years old at the time of his death.
MacLean was the son of a farmer and the eldest of seven. He served as a fireman on the Tampa. MacLean was only 23 years old when he died.
It remains unclear why it took so long for Frost and MacLean's families to receive the Purple Hearts. Former President Harry S. Truman signed an executive order in late 1952 extending eligibility to receive the medal retroactively for actions that occurred after April 5, 1917.
The issuance of EO 10409 automatically qualified Tampa's crew members for the award. However, the first family members didn't receive a Purple Heart until late 1999.
As a side note, according to "Remember the Tampa," the USCG cutter's 11 black crew members were the first minority members of the USCG eligible to receive the Purple Heart.
Copyright 2023, RepublicanPress.org