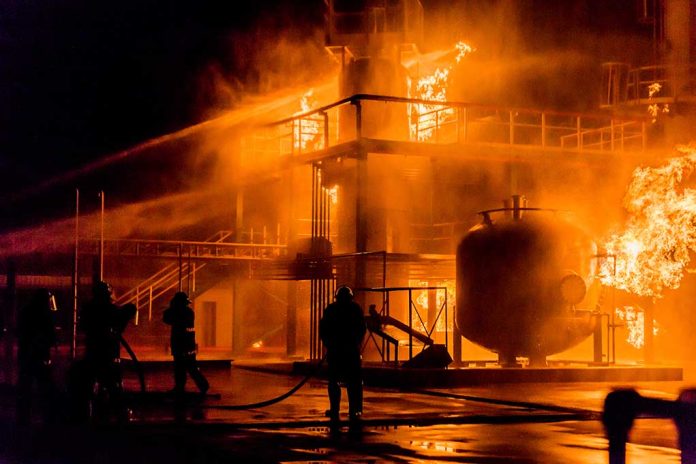 Evacuations ORDERED – Terrifying EXPLOSION Reported!
(RepublicanPress.org) – The price of natural gas has risen from $1.91 to over $6.00 per MMBtu since President Joe Biden assumed office in January 2020. Any time there is a disruption in the supply chain, there's a possibility those prices could increase. Could this become a concern after an explosion at an Oklahoma plant?
On Saturday, July 9, an explosion and subsequent fire rocked a natural gas plant in Medford. Brad Borror, a spokesperson for ONEOK, Inc., sent an email to NBC News confirming it made sure its personnel was safe and it wasn't aware of any injuries.
#DEVELOPING Evacuations issued after explosion at ONEOK natural gas plant in Medford, Oklahoma pic.twitter.com/2N52yC0CCA

— KWTX News 10 (@kwtx) July 10, 2022
The Grant Country Sheriff's Office started posting a series of evacuation orders on its Facebook page beginning Saturday at 3:16 p.m. local time. The initial order pertained to residents south of Main Street, but at 3:37 p.m., it extended the zone to cover a two-mile radius around the blast site.
Shortly after midnight, the sheriff's office announced the Medford Mayor's Office had extended the evacuation order. After one more extension, it expired on Sunday evening. However, as of Sunday night, a portion of US Highway 81 extending between Pond Creek and the intersection of State Highway 11 remained closed to through traffic.
According to the company, it is a "fractionation facility." That's a process where natural gas is turned into retail products like gas for homes and vehicles, propane, butane, and ethane. There's no word yet on whether the fire will have a larger economic or supply chain impact.
Copyright 2022, RepublicanPress.org