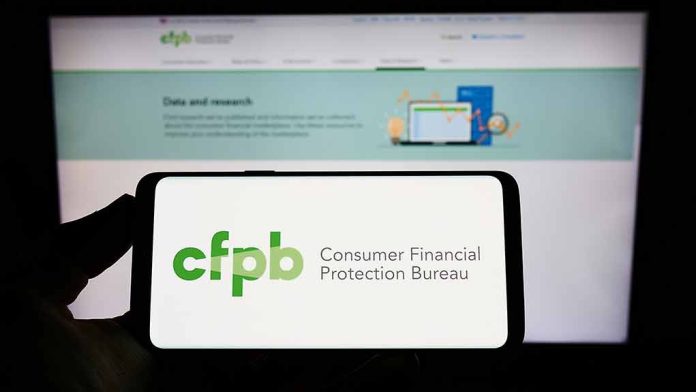 (RepublicanPress.org) – In 2010, Congress passed the Dodd-Frank Wall Street Reform and Consumer Protection Act to address issues in the finance industry and help prevent a repeat of the the Great Recession. Under the law, the government established the Consumer Financial Protection Bureau (CFPB), which is responsible for assisting consumers in understanding financial products and services and stopping banks from partaking in irresponsible lending practices. Ironically, a former employee with the CFPB is accused doing something very irresponsible themselves.
On April 19, The Wall Street Journal reported that a former CFPB employee transferred about 256,000 consumers' personal information to their personal computer. The emails also included confidential supervisory data concerning 45 entities. The bureau has not revealed the names of the firms involved in the breach or the former employee's identity. Republican lawmakers are demanding more details about the incident from CFPB Director Rohit Chopra.
Although bureau officials allegedly became aware of the situation on February 14, they didn't notify Congress until more than a month later.
Employee at @CFPB forwarded to personal email account confidential info on thousands of consumers & dozens of financial firms in "major incident," @WSJ rpts: https://t.co/fwAzEUX6hy #cybersec #privacy

— Mark Albert (@malbertnews) April 19, 2023
A spokesperson for the CFPB said the consumer information didn't include bank account numbers or any other data that could give outsiders access to their accounts. Still, the protection bureau requested the former employee delete the emails from their personal computer, but the spokesperson said that person had not complied — yet.
According to the New York Post, the bureau said it found no proof that the former employee forwarded the information from his personal computer to anyone else. Senator Tim Scott (R-SC) questioned if the CFPB was still trustworthy in collecting consumer data if they couldn't properly protect it.
On April 18, Chairman of the Subcommittee on Oversight & Investigations Representative Bill Huizenga (R-MI) wrote a letter to Chopra. He said there were many unanswered questions about the incident, and Congress wanted answers. Huizenga requested the director brief the subcommittee about the "scale of the breach" and the status of the ongoing CFPB internal investigation by April 25.
Copyright 2023, RepublicanPress.org