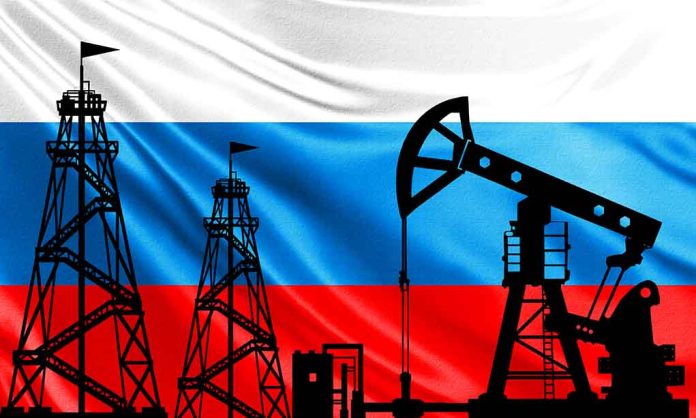 Russian BAN Announced – Will It Help Or Backfire?
(RepublicanPress.org) – The European Union (EU) responded to Russian President Vladimir Putin's invasion of neighboring Ukraine by imposing several harsh sanctions. The measures are meant to cripple its ability to finance its war efforts. The EU applied sanctions on the country's energy, financial, and transportation sectors. Additionally, the multi-nation alliance has also levied measures against individuals and private companies, imposed import and export bans, and excluded Russia from access to European currency and public contracts.
Most recently, European Union President of the Commission Ursula von der Leyen held a press conference on May 31 to discuss a special meeting of the European Council the previous day. She told reporters the commission decided to impose a de facto ban on roughly 90% of oil imports from Russia by the end of 2022.
The embargo will cover oil transported by sea, but includes a temporary exemption for oil transported using the Russian-operated Druzhba pipeline, a necessary waiver to convince land-locked Hungary to support the ban.
But, will the proposed ban be effective? Some experts have expressed their doubts.
Energy Sector Experts Weigh In on the EU's Ban on Russian Oil Imports
Energy experts told ABC News that rising energy prices could limit the effectiveness of the EU's ban on Russian oil. The 27-member union relies on Russian imports for roughly 40% of its natural gas consumption and 25% of its crude oil.
Although the embargo could prompt the collapse of Russia's economic system and limit its ability to continue to finance its Ukrainian war effort, it could drive the European economy into dire circumstances.
An analyst at Milan's Institute for International Political Studies, Matteo Villa, said that Russia would take a significant economic hit due to the oil import ban. However, he cautioned the embargo could eventually turn sour for EU member states.
According to Villa, oil prices could increase throughout Europe due to the EU sanctions. "If the price [rises significantly]… Russia starts to earn more [on its remaining exports], and Europe loses the bet," he explained.
Likewise, Russia is already reaching out to other nations to circumvent the impact of the EU embargo.
Russia Pledges To Find Alternative Importers
Moscow vowed to find other countries to fill the void created by the EU ban. Russia will manage to retain some European sales and could reroute oil destined for Europe to Asian customers like India and China.
Chris Weafer, the head of Eurasian business consultancy Macro-Advisory Limited, told ABC News that Russia would have to lower prices to entice Asian purchases. However, with prices already inflated, it could still sell its oil for roughly the same price it received last year.
Weafer also confirmed India's willingness to trade with Russia. He also noted China's eagerness to buy oil at "big discounts on global market prices."
What do you think? Will the EU ban slow down Russia's war efforts in Ukraine?
Copyright 2022, RepublicanPress.org