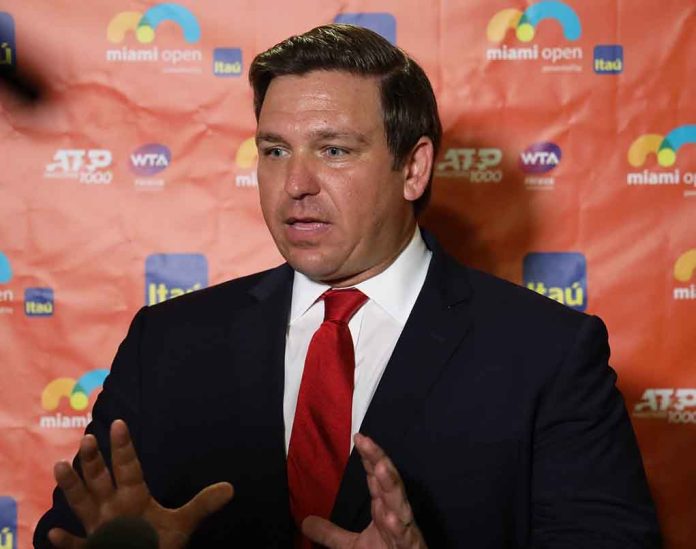 (RepublicanPress.org) – A super PAC associated with former President Donald Trump entered an ethics complaint against Florida Governor Ron DeSantis (R) in mid-March, accusing the politician of running a shadow campaign for the GOP presidential nomination and illegally accepting gifts and donations. Nikki Fried, the former Florida Agriculture Commissioner and current state Democratic party chair, filed a second ethics complaint against DeSantis on Monday, March 27.
In her complaint, Fried alleged DeSantis accepted gifts from Friends of Ron DeSantis, a political action committee, violating state law. She specifically referred to a three-day retreat that the PAC paid more than $235,000 to host at the Four Seasons Resort in Palm Beach, Florida. She listed some of the expenses, including over $142,000 for meeting accommodations, nearly $12,000 for a catered meal and beverages from Dirty French Steakhouse, and commemorative event gifts (tumblers and t-shirts) totaling just under $5,000.
I just filed a state ethics complaint against @GovRonDeSantis for accepting prohibited gifts from his political committee, including:

– $235k Four Seasons* Palm Beach
– $142k Four Seasons* Miami
– $11k Dirty French Steakhouse

*not the Total Landscaping kind pic.twitter.com/CQi3jd2C5L

— Nikki Fried (@NikkiFried) March 27, 2023
DeSantis met with donors and GOP operatives during the retreat to celebrate his vision for America, nicknamed the "Florida blueprint" and described in his new memoir, "The Courage To Be." According to POLITICO, PACs can accept unlimited donations under Florida state law. The committees regulating ethics and campaign finance have traditionally indulged PAC spending associated with meetings like that one.
Two weeks earlier, the Make America Great Again (MAGA), Inc. super PAC lodged a similar complaint. Like the one filed by Fried, it accused the governor of running a shadow campaign by visiting Iowa and Nevada, both early primary states, ostensibly to promote his "Florida blueprint." The complaint also said the governor received illegal and inappropriate gifts from PACs.
Taylor Budowich, the founder and CEO of MAGA, Inc., cited the state's "resign to run" policy in his letter to the ethics committee. He pointed out that DeSantis was continuing his official duties as governor even though he was meeting with politically influential individuals in early primary states in an apparent attempt to garner influence.
Just like the one from two weeks ago, we'll just add this to the list of frivolous & politically motivated attacks.

Louder for the Dems in the back: It's inappropriate to use ethics complaints for partisan purposes. https://t.co/jpSkYRw2E3

— Taryn Fenske (@tarynfenske) March 27, 2023
DeSantis's spokesperson, Taryn Fenske, posted a tweet dismissing both ethics complaints as "frivolous and politically motivated attacks" She specifically called out the state Democrats, writing that, "It's inappropriate to use ethics complaints for partisan purposes."
Copyright 2023, RepublicanPress.org