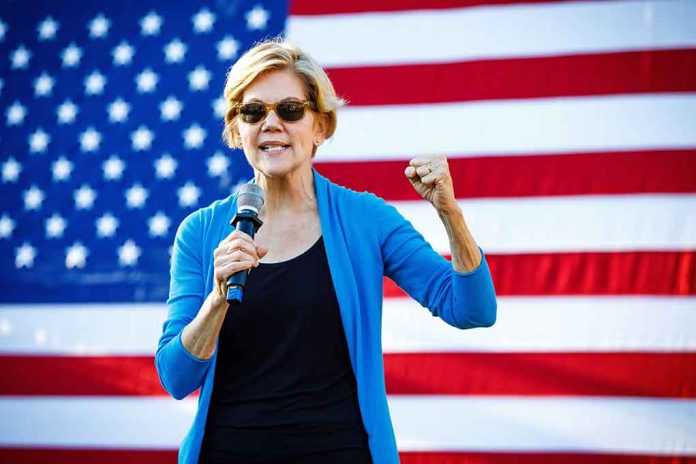 (RepublicanPress.org) – The state primaries for the 2024 campaign cycle don't begin until March 5 and run through mid-September if the latest schedules hold. Nevertheless, some lawmakers, like progressive firebrand Sen. Elizabeth Warren (D-MA), are tossing their hats in the ring in hopes that getting an early start will help them win another term.
Warren posted a sleek video announcing her re-election bid on her Twitter account first thing Monday, March 27. The roughly two-and-a-half-minute clip features Massachusetts voters praising her accomplishments.
In one instance, a stern-looking man stares at the camera, crosses his arms, and says, "Elizabeth doesn't [expletive] around." The next person, an elderly woman, says she can "finally afford hearing aids" thanks to Warren.
We've won some big victories for working families in Massachusetts and across the country, but there's a lot more to do. So today I'm making it official: I'm running for re-election to keep up the fight. pic.twitter.com/ebG3vJCot3

— Elizabeth Warren (@ewarren) March 27, 2023
A former law professor at the University of Pennsylvania and Harvard University, Warren authored 11 books focusing on economics, personal finance, and the plight of the middle class. In 1996, she switched parties, opting to become a member of the Democratic Party after being a "diehard conservative" for years, according to a longtime friend.
Warren helped former President Barack Obama establish the Consumer Financial Protection Bureau (CFPB) in 2010 as part of the administration's response to the 2007/2008 financial crisis and subsequent Great Recession. However, Obama later turned his back on her and withdrew her name from consideration at the CFPB's head due to mounting concerns she couldn't overcome Republican opposition.
The following year, Warren announced her candidacy for the US Senate and ran unopposed for the Democratic nomination. In June 2012, she landed the party's endorsement with a record-breaking 95.77% of the delegate votes. She won the general election, unseating Republican incumbent Sen. Scott Brown by a margin of 53.3% to 45.8%, becoming the first woman elected to serve in the Senate from Massachusetts.
The Warren for Senate website details some of the senator's priorities, including holding banks accountable, raising taxes on large corporations, ending Washington corruption, and rebuilding the middle class.
Warren currently chairs the Senate Banking Committee's Subcommittee on Economic Policy and the Finance Committee's Subcommittee on Fiscal Responsibility and Economic Growth. She also serves as a member of the Armed Services Committee and the Special Committee on Aging.
Copyright 2023, RepublicanPress.org