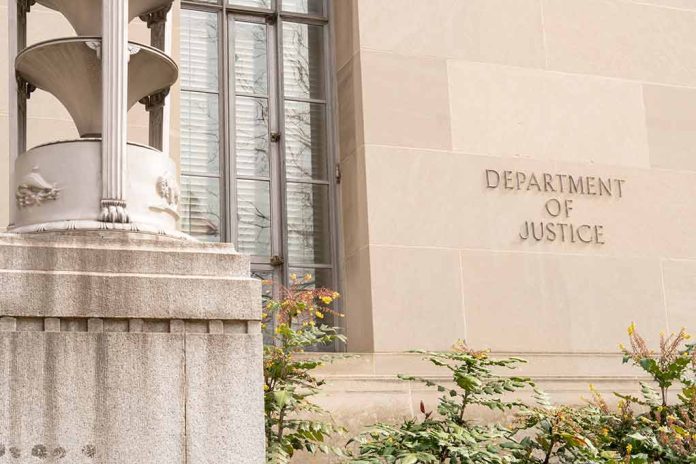 (RepublicanPress.org) – Special Counsel Jack Smith's team plans to present their latest case against Donald Trump to a jury in the US District Court for the District of Columbia. The grand jury handed down a four-count indictment against the former president on Tuesday, August 1. He entered a not-guilty plea to all accounts days later, and prosecutors filed a motion seeking a protective order to limit his public commentary on Friday.
Protective orders governing discovery and grand jury materials are a standard practice (pro forma) in federal criminal proceedings. Federal prosecutors already obtained one in the Mar-a-Lago documents case overseen by District Judge Aileen Cannon, a 2020 Trump appointee.
U.S. prosecutors flagged a threatening social media post from Donald Trump, arguing that it suggests he might intimidate witnesses by improperly disclosing confidential evidence received from the government. https://t.co/gOii6hoYrg

— NEWSMAX (@NEWSMAX) August 7, 2023
The government's four-page motion noted that its request was "consistent" with other orders "commonly used" in the District of Columbia and wasn't "overly restrictive." Continuing, the document explained that the sole purpose of the protective order was "to prevent… the improper dissemination or use of discovery materials," including their public release.
Additionally, prosecutors explained that issuing the order was "particularly important" in light of Trump's previous posts on social media sites "regarding witnesses, judges, attorneys, and others associated with [pending] legal matters."
Likewise, the motion stated that the former president had already released "multiple posts… specifically or by implication" related to the current case before the court. The document included a screenshot of a brief statement posted by Trump on his Truth Social account on Friday, with a warning in all caps to those who "go after" him.
Per the Federal Rules for Criminal Procedure, prosecutors also attached the text for the proposed protective order. The five-page document bars Trump and his counsel from using materials provided by prosecutors for anything other than defending the case during his trial. Likewise, it prohibits the former president and his legal team from disclosing discovery materials or their contents to anyone, directly or otherwise, other than individuals hired to aid his defense, persons interviewed as possible witnesses, attorneys for potential witnesses, or other people specifically authorized by the court.
Additionally, the text of the proposed protective order specifically excluded public records "independent" of federal prosecutors' "productions" and any records the former president and his lawyer obtained by "independent means, unrelated to the discovery process.
Copyright 2023, RepublicanPress.org