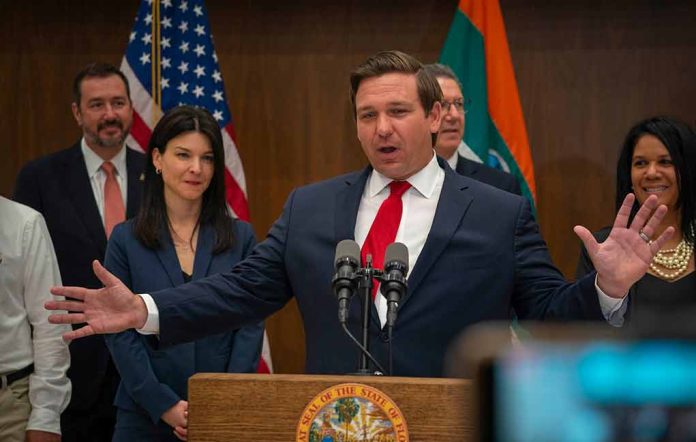 (RepublicanPress.org) – As the primary season ramps up for the upcoming election to see who will appear on the November 2024 presidential ticket, many candidates have their campaigns in full swing. On July 25, GOP candidate and Florida Governor Ron DeSantis was on his way to an event in Chattanooga, Tennessee, when he was involved in a car crash.
Soon after the incident, ABC News reported that DeSantis suffered no injuries during the collision, continuing on to the scheduled fundraiser. According to local news sources, the event was a high-priced affair held at a private home. The governor reportedly had two other fundraisers to attend that day in the state. According to ABC News, one person sustained a minor injury. She received treatment at the Chattanooga event.
Florida Governor unhurt after car accident in Tennessee https://t.co/eyB3e1z5tk

— BBC News (World) (@BBCWorld) July 25, 2023
NBC News reported that the crash took place on I-75 early in the morning. Reportedly, the motorcade approached slowed traffic too quickly and had to slam on the brakes, causing a rear-end crash for the remaining vehicles — including the one carrying DeSantis. There's no word about whether the police issued a citation to the driver of that vehicle.
These fundraisers have become increasingly important, as it seems the DeSantis campaign is spending money too quickly, which could affect his momentum. NBC News also revealed the Florida leader fired nearly half of his staff, presumably to get his campaign finances in line. Currently, Desantis is struggling in the polls, with former President Donald Trump leading him by 32% in a recent Monmouth University survey. Director of the polling institute, Patrick Murray, said DeSantis' campaign is at a standstill.
Generra Peck, DeSantis' campaign manager, is still confident that the governor can climb in the polls and perhaps win the nomination. He said the campaign is in the process of retooling so that the Florida governor can beat President Joe Biden next November. Peck said the feat would represent a "Great American Comeback."
Copyright 2023, RepublicanPress.org