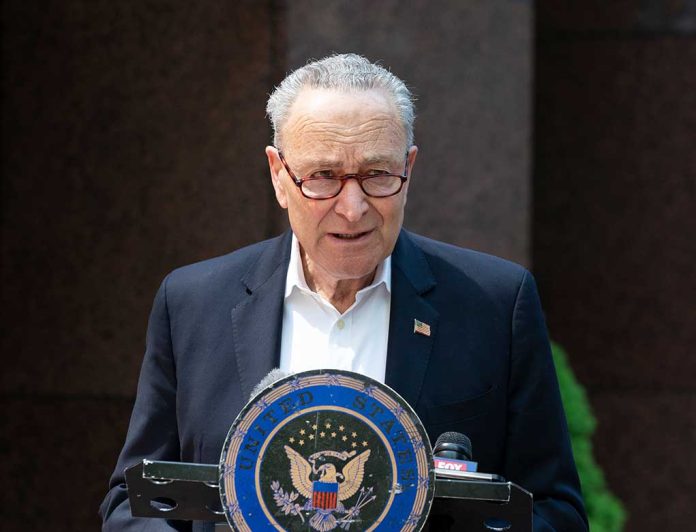 (RepublicanPress.org) – Senator Majority Leader Chuck Schumer (D-NY) was born in Brooklyn in 1950. Although he studied political science and law at Harvard, earning degrees in both areas and passing the bar, he decided not to practice law but to steer his career toward politics. The people elected him to the Senate in 1998, and he's served in the Upper Chamber ever since.
On December 8, Senate Democrats voted to keep Schumer as majority leader — a position he's held since January 2021. Under his leadership, the Left, combined with the Independents who caucus with them, has managed to hold onto the majority.
Dems Reelect Schumer as Majority Leader https://t.co/7N5uRbz7B3 via @newsmax

— Chris 🇺🇸 (@Chris_1791) December 8, 2022
NBC New York reported applause could be heard outside the room following the vote, which took place behind closed doors. Schumer called the meeting "unified," according to the outlet, saying everyone in attendance was happy about what the Senate has been able to accomplish so far, and they expect that momentum to continue.
The second and third leadership spots in the Upper Chamber went to Senators Dick Durbin (D-IL) and Debbie Stabenow (D-MI), respectively. Senator Patty Murray (D-WA) earned the nomination for president pro-tempore, but the vote for that position won't happen until January.
In the House, Democrats chose Representative Hakeem Jeffries (D-NY) to lead the party.
What do you think about the Democrats' decision to keep Schumer as Senate Majority Leader?
Copyright 2022, RepublicanPress.org