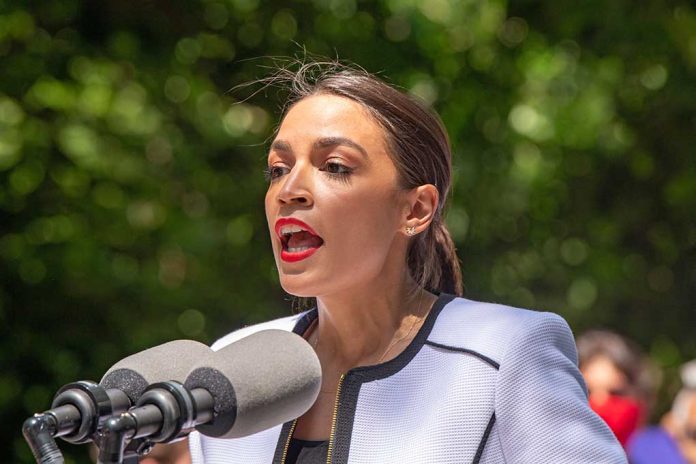 Dem Strategist Makes RIDICULOUS Claim About AOC – Is He for Real?!
(RepublicanPress.org) – Although President Joe Biden insists he will run to retain his seat in the Oval Office in the next general election, at least one political strategist believes someone else should throw their hat into the ring — Representative Alexandria Ocasio-Cortez (D-NY). On August 1, Michael Starr Hopkins surmised the lawmaker would be the best option to beat Trump in 2024.
According to an op-ed from The Hill, he strategist believes she may be just the ticket young voters need to represent them in the White House.
"AOC is the Democrats' best shot against Trump in 2024" (@TheHillOpinion) https://t.co/HCtpohjkI8 pic.twitter.com/nX8qaUVNF0

— The Hill (@thehill) August 2, 2022
Yet, considering AOC's obvious liberal stance and outspoken progressive opinions, she may actually do more harm than good. Recent numbers from Statista show that 33% of those surveyed saw Ocasio-Cortez in a very unfavorable light, and only 16% chose very favorable as of May. Given the numbers and the fact that 24% of respondents didn't know how they felt about the New York lawmaker, would she even be able to garner enough support to hold a spot on the Democratic ticket?
Still, Hopkins wrote that he believes her presence would be like a breath of "fresh air" for the party, likening her to former President Barack Obama. He called AOC a "movement" and someone who isn't afraid to use her voice. The strategist said she "relates to her supporters" and would provide a viable alternative to Biden.
What do you think? Do you believe the outspoken politician could secure the nomination and possibly become the first female president, or do you feel she's too progressive for most voters?
Copyright 2022, RepublicanPress.org