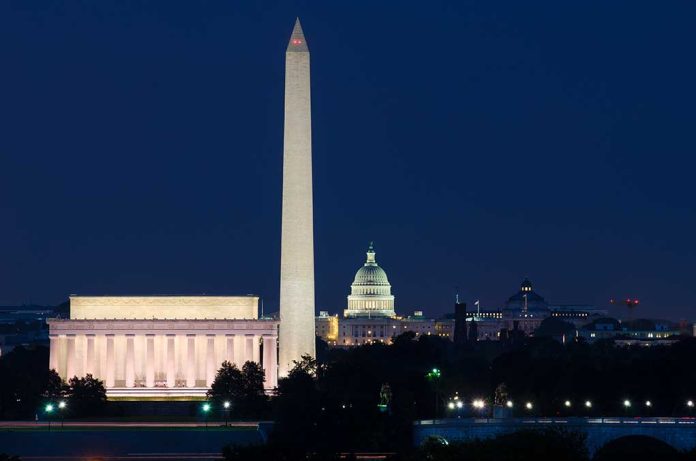 Police Reportedly Step in After Washington Monument Vandalized
(RepublicanPress.org) – The Washington Monument is a granite and marble obelisk in Washington, DC, erected to honor former President George Washington. Robert Mills designed the building over 100 years ago, and workers completed the structure in 1884. It remains a popular tourist attraction in the district to this day. Although the monument has been closed a few times for restoration and damage from storms, the most recent closure was due to vandalism.
On September 20, a man allegedly splashed red paint on the monument and wrote a message with two profanities on the base.
Washington Monument vandalized with red paint – https://t.co/hPsY598cE0 pic.twitter.com/XGQXefQj9R

— Refess.com (@Refess) September 21, 2022
National Park Service conservators began the restoration of the structure the next day and closed public access to the area surrounding the monument's base. Unfortunately, WTOP reports the cleanup could take a few weeks, as marble is a porous medium that isn't easily cleaned.
Police arrested Indiana resident Shaun Ray Deaton for the crime. They charged him with vandalism, trespassing, and tampering. Authorities also said there might be additional charges against the suspect and did not mention whether or not he perpetrated the act alone.
They did not reveal a motive for the crime, but News4 reportedly spoke to Deaton. He told them he has been dealing with homelessness and chronic illness, and that he wanted to get himself arrested so he could get some help. According to him, he already tried unsuccessfully to secure help using other resources.
What do you think the punishment should be for defacing the Washington Monument? Have you ever visited the structure?
Copyright 2022, RepublicanPress.org