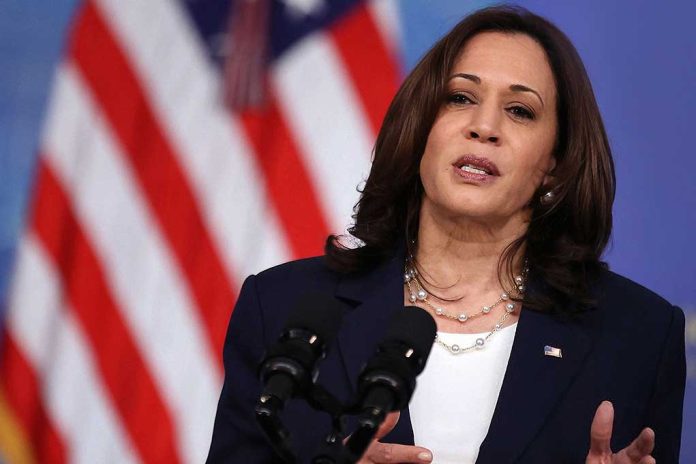 (RepublicanPress.org) – Vice President Kamala Harris started the week with a bang. On Monday, February 28, critics lashed out at her after she said Americans "got what they asked for" when they elected her and President Joe Biden. Detractors quickly flooded the internet with a list of the administration's many failures. She managed to step into the mire again on Tuesday after she offered an overly simplified explanation of the Ukraine crisis.
The vice president made her remarks during an interview with Hip Hop-themed radio program "The Morning Hustle." Inevitably, the conversation turned to the conflict between Russia and Ukraine, and Harris was asked to describe the situation in "layman's terms." Harris swiftly launched what could be best described as a grade school, "See Dick. See Dick run" styled commentary on the situation.
Kamala Harris: "Ukraine is a country in Europe. It exists next to another country called Russia. Russia is a bigger country. Russia is a powerful country. Russia decided to invade a smaller country called Ukraine. So, basically that's wrong." https://t.co/Attxpm2cBn

— Daily Caller (@DailyCaller) March 2, 2022
Using short and choppy sentences, Harris began by informing [?] viewers that Ukraine was a European country, adding it's located next to "another country named Russia." Next, the told listeners Russia is bigger than Ukraine, and Russia is "powerful." The rest of the interview followed that child-like course.
The internet exploded with irate individuals expressing outrage at Harris' condescending style of providing important information to the American public.
For example, Meghan McCain tweeted that the vice president's explanation reminded her of something her 16-year-old niece would say.
This gives me so much anxiety.

This is like how my 16 year old niece would answer this question. https://t.co/xPAtILo41Y

— Meghan McCain (@MeghanMcCain) March 1, 2022
Others weren't that generous in their assessment with one Twitter user likening Harris' explanation to that of a nine-year-old. Chris Hartline, the National Republican Senatorial Committee communications director, applauded Harris' staff for using Wikipedia to prep her for the interview.
What do you think of Harris and her way of attempting to connect with voters?
Copyright 2022, RepublicanPress.org