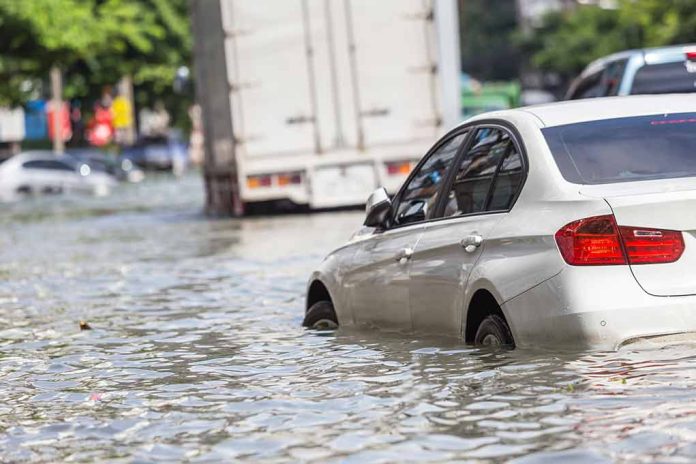 (RepublicanPress.org) – In August 2011, Tropical Storm Irene blew through Vermont, devastating roads, homes, businesses, and farms across the state. According to Only in Your State, the storm caused at least 56 deaths and cost the area upwards of $15.6 billion. Some parts of Vermont saw as many as 11 inches of rain in a single day. Recently, storms visited the state again, this time dumping almost as much rain in the region.
On July 11, Fox Weather reported that Vermont was experiencing heavy flooding. Up to nine inches of rain fell in some parts of The Green Mountain State. The outlet said the torrential downpour caused rivers to swell past the levels observed during Irene. For example, the Wrightsville Dam rose three feet with only six feet of buffer before swells reached the top. The Montpelier Police Department reported the dam was still rising and was only a foot from the spillway. The PD promised to continue monitoring the situation and keep the public informed.
Satellite images show the extent of the flooding in New York and Vermont after torrential rains unleashed flash floods on the US Northeast pic.twitter.com/BejRmkZiVZ

— Reuters (@Reuters) July 13, 2023
Newsmax stated there had been no reported injuries or death from the storm in Vermont but noted that one woman in New York's Hudson Valley, Pamela Nugent, lost her life trying to flee her home.
President Joe Biden declared a state of emergency in Vermont, making way for federal assistance to help in the rescue and response efforts. The declaration also authorized FEMA to offer its help. First responders have reportedly rescued over 100 people so far.
Vermont Governor Phil Scott (R) said his state isn't "out of the woods" yet, as roads are still flooded, and weather reports called for more rain and storms in the following days. Dozens of roads and highways are no longer accessible, and there are flashflood warnings stretching from the southern to the most northern parts of the state.
Meanwhile, shelters are set up for those in need, and residents are encouraged to heed flood warnings.
Copyright 2023, RepublicanPress.org