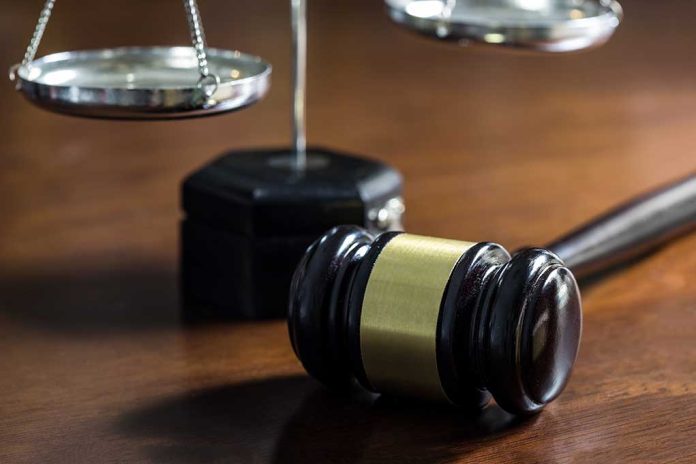 (RepublicanPress.org) – President Joe Biden may have done everything in his power to reverse his predecessor's immigration policies, but some of them live on in the courts. The continued advancement of the prosecution of a Massachusetts judge serves as a perfect example of the lasting impact of Trump administration policies.
Federal prosecutors indicted Newton District Court Judge Shelley Joseph and Wesley MacGregor, her courtroom deputy, in 2019 for their alleged role in helping a previously deported illegal immigrant escape arrest by a US Immigration and Customs Enforcement agent in 2018.
#BREAKING: USA Lelling and HSI SAC Fitzhugh announce obstruction charges against Massachusetts Trial Court Judge Joseph & Court Officer MacGregor for allegedly preventing an ICE Officer from taking custody of an alien defendant in #NewtonDistrictCourt pic.twitter.com/MVDCf8LTZk

— U.S. Attorney Massachusetts (@DMAnews1) April 25, 2019
Joseph and MacGregor filed an appeal in the First US Circuit Court in Boston when the lower court ruled against their pretrial motions for dismissal. On Monday, February 28, a three-judge panel from the First Circuit denied her appeal, calling it "premature" and stating it lacked jurisdiction to review the case before a final judgment order by the lower court.
A Massachusetts judge can be prosecuted for blocking an immigration arrest, the 1st circuit ruled. Prosecutors have accused Judge Shelley Joseph of blocking an ICE agent from detaining a previously deported man in 2018 https://t.co/O1z2PBp70w pic.twitter.com/GNC5auxqyX

— Reuters Legal (@ReutersLegal) March 1, 2022
In short, the First Circuit ruled that Joseph and MacGregor failed to demonstrate prosecutors violated any explicit statutory or constitutional provisions or rights. For that reason, the two of them would have to face a jury before having the right to appeal their case.
If a jury convicts Joseph and MacGregor, court watchers predict it may have a chilling effect on other judges inclined to interfere with federal efforts to enforce immigration policies.
Copyright 2022, RepublicanPress.org