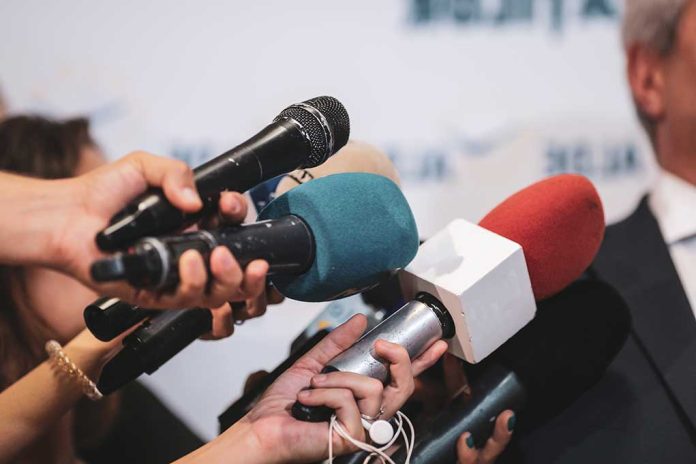 (RepublicanPress.org) – Representative George Santos (R-NY) appears to be a magnet for controversy. The media has focused on his alleged stream of lies presented during his 2022 campaign. Then, on May 9, federal prosecutors in New York issued a 13-count indictment against him. Adding fuel to the fire, one of his staffers recently found himself in hot water over online comments he directed at a reporter.
On May 12, the Daily Beast reported that Santos' director of operations and ex-con, Vish Burra, is facing disciplinary action for posting several tweets containing what appear to be veiled threats aimed at freelance reporter Jacqueline Sweet. The tweets have since been deleted, but the news outlet posted screenshots from part of the exchange. Communications director for Representative Santos, Naysa Woomer, said Burra's behavior was "unacceptable" and the congressman's office would not condone any type of "threats of violence."
EXCLUSIVE | Vish Burra, George Santos' director of operations and a former producer for MAGA mastermind Steve Bannon's podcast, will be disciplined for targeting reporter Jacqueline Sweet in a series of menacing tweets.https://t.co/likQs93FS7

— The Daily Beast (@thedailybeast) May 12, 2023
Burra indicated the newswoman was obsessed with him, accusing her of "looking into [his] eyes" during the congressman's initial court appearance. He also responded to a tweet from another Twitter user suggesting that he should have struck Sweet with some of his apparent venom for her. Burra responded in a since-deleted tweet that he thought she wanted him to "hit her with something else!" Burra also reportedly suggested the reporter wanted him to "lock her up somewhere."
The next day, Burra reacted on Twitter to the accusation that he threatened Sweet with "sexual violence." Burra claimed he "can't even joke or roast them" after they tweet about him because they cry "violence." Then he said "they" only "pretend to be humorless" so they can claim they're offended, calling his targets "weak and feeble."
It's unclear what actions Santos' office will take against the operations director, if any, but a source familiar with the issue said they were taking the incident "very seriously," according to The Daily Beast.
Copyright 2023, RepublicanPress.org