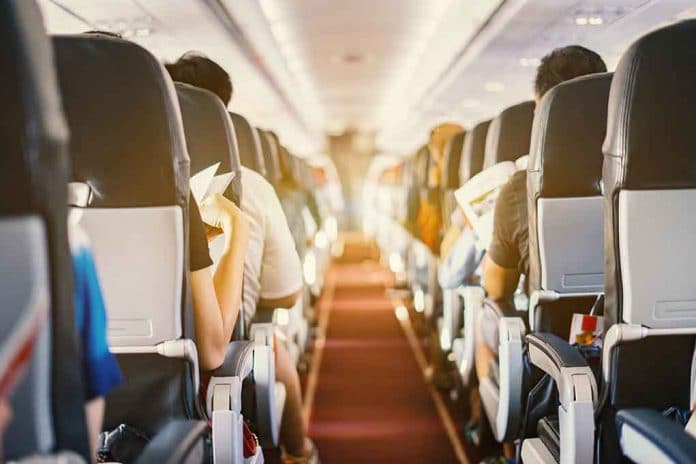 (RepublicanPress.org) – Many Americans remain tense in the wake of the coronavirus pandemic, the highly disputed 2020 presidential election, and the rise of protests across the country. Unfortunately, over the last year, the US has also seen a rise in flight disruptions due to unruly passengers. One such incident recently forced emergency landing of a plane after a passenger reportedly started threatening others on the flight.
On Wednesday, February 9, passengers on board a Frontier Airlines flight traveling from New York City to Orlando, Florida, had to restrain a disruptive passenger who reportedly threatened to kill everyone on the flight.
A spokesperson for the airline confirmed the incident to reporters, adding that the pilot decided to divert his aircraft to North Carolina's Raleigh-Durham International Airport for an emergency landing.
-Emergency landing in North Carolina on Frontier Flight F9 1335

-Citizens arrest

-Guy started flipping out saying the lady behind him was sticking him with needle to steal dna
-Said he'd smack every mf on this plane
-Threatened a baby
-Said he'd kill everyone on this plane pic.twitter.com/0kYiDYMlod

— GOTC (@GOTC86994727) February 10, 2022
The incident reportedly started when the unnamed male passenger started "flipping out" and accusing the woman behind him of attempting to collect his DNA using a needle. The man also reportedly threatened to "smack every [expletive] on the plane," threatened a baby, and said he would "kill everyone" on the flight.
The man also allegedly tried to break out a window on the plane. That's when other passengers took matters into their own hands, managed to gain control over the man, and effectuated a citizens' arrest of the suspect.
Law enforcement officials met the plane on the tarmac, and it continued its flight to Florida without further incident.
Copyright 2022, RepublicanPress.org