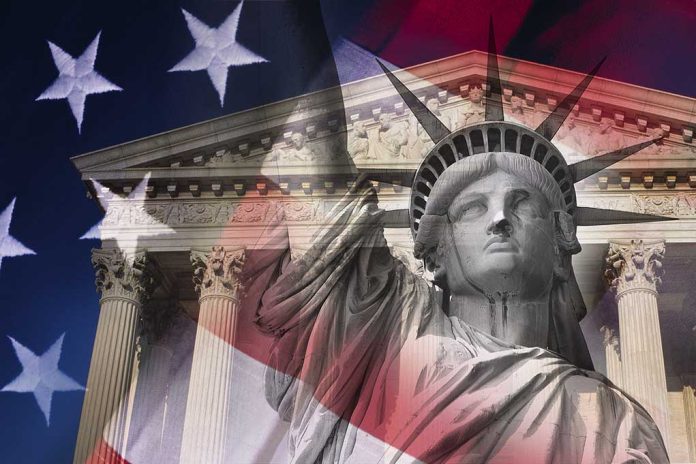 Clarence Thomas Says NO – He's Pushing Back!
(RepublicanPress.org) – The backlash continues mounting over the recent leak of a draft opinion indicating the Supreme Court (SCOTUS) might overturn Roe v. Wade (1973) over the summer. Pro-choice crowds began demonstrating at some justices' houses over Mother's Day weekend. Associate Justice Clarence Thomas, the longest-serving justice, is pushing back against criticism of the court.
Justice Thomas spoke out briefly about the controversy surrounding the leaked draft opinion for the first time at the 2022 Eleventh Circuit Judicial Conference in Atlanta on Friday, May 6. He quickly dismissed the idea that people could gain any leverage over the court's deliberations.
Agreed, Justice Thomas. https://t.co/Rvg1MY1MXJ

— Students for Life of America (@StudentsforLife) May 7, 2022
Thomas didn't spend much time discussing the Roe v. Wade issue. However, he did reference the events of the past week and said that as an institution, SCOTUS can't allow itself to "be bullied into giving [the public] just the outcomes [it] wants."
Chief Justice John Roberts also spoke to conference attendees the previous day, Fox News reported. He called the document's leak "absolutely appalling," adding the situation would not impact the high court's ability to carry out its duties.
In the meantime, US Capitol Police Department officials erected tall fencing and other barricades around the Supreme Court building, and Chief Justice Roberts called for an internal investigation of the leak.
What are your thoughts? Do you think SCOTUS will overturn Roe v. Wade?
Copyright 2022, RepublicanPress.org