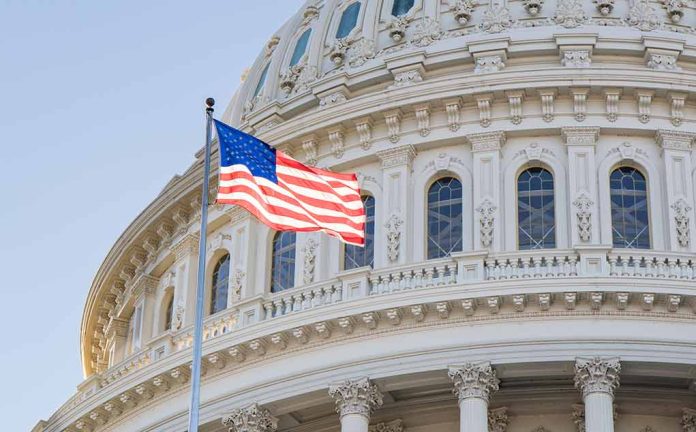 (RepublicanPress.org) – Ever since Republicans took the majority in the House of Representatives, GOP members within the Lower Chamber have been discussing the possible weaponization of several federal government agencies. In February, the Judiciary Committee held a hearing investigating the goings-on within the FBI and the Department of Justice (DOJ). Now, the panel intends to dig a little deeper into the alleged politicization of the FBI.
On July 5, the Judiciary Committee announced it would hold a hearing on July 12 to examine whether the agency let politics rule its decisions. The first witness set to appear on that date is FBI Director Christopher Wray. According to Breitbart, his testimony will be the first time Wray formally speaks to the committee since the accusations about President Joe Biden and Hunter Biden forcing a wealthy Ukrainian to pay them off emerged.
The GOP-led House Judiciary Committee announced FBI Director Christopher Wray will testify next Wednesday at a hearing relating to "the politicization of the nation's preeminent law enforcement agency."https://t.co/YbykmiiCAN

— Washington Examiner (@dcexaminer) July 5, 2023
Newsweek previously reported on the unconfirmed existence of 17 audio recordings allegedly serving as evidence of the Biden scandal. Supposedly, the recordings were part of a tip received by the FBI and recorded on an FD-1023 form later requested by Congress. Several House members were allowed to view the document in June. Now, the Judiciary Committee will hear what Wray has to say on the matter.
Another issue likely to be addressed during the hearing is the multiple allegations coming from IRS whistleblowers. One claimed the FBI interfered in the tax entity's investigation into Hunter Biden. The other said the agency failed to investigate whether or not the president's son was truthful when he allegedly used his father's influence to intimidate a Chinese businessman.
In May, Representative Marjorie Taylor Greene (R-GA) attempted to remove the FBI director, filing articles of impeachment with the House Judiciary Committee. She received only six GOP supporters to the movement, but it highlighted the fact that at least some House members believe Wray considers politics while running the FBI.
Copyright 2023, RepublicanPress.org