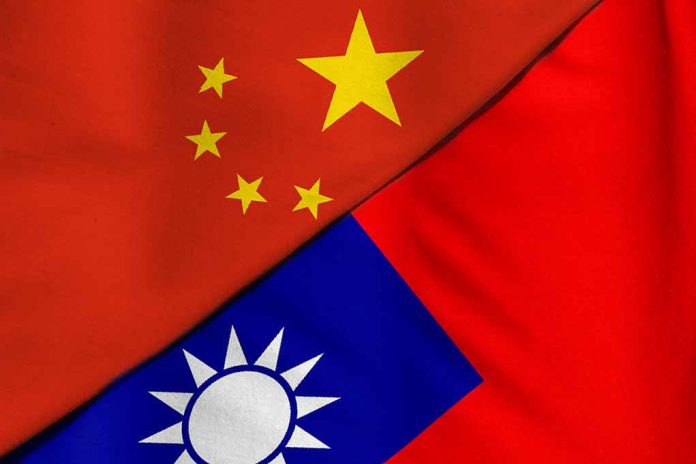 (RepublicanPress.org) – Taiwan started holding an annual military drill called the Han Kuang Exercise (HKE) in 1984. The HKE is conducted in two phases. The first involves command post simulations, and the second focuses on field training exercises aimed at increasing military and civilian readiness in the event of a foreign invasion. The live fire portion of the event runs from July 24 to 28. Recent reports out of Taipei indicated that China sent forces toward the tiny island nation ahead of the exercises.
Taiwan's Ministry of National Defense publishes daily reports detailing the presence of airplanes/fighter jets and naval vessels operated by the Chinese People's Liberation Army (PLA) in its airspace and waters. The week began benign enough, with the Defense Ministry reporting that four aircraft and five navy vessels entered the island's territorial space. On Tuesday, July 11, Tawain detected 11 aircraft and four ships.
China sent 9 navy ships and more than 60 warplanes toward Taiwan over two days, the island's defense ministry said. Self-ruled Taiwan holds its annual military exercises later this month, aimed at defending itself against a possible invasion. https://t.co/oeQDW1SXFp

— The Associated Press (@AP) July 12, 2023
Things started spiking on Wednesday. The Defense Ministry reported that military officials detected 38 PLA aircraft and nine naval vessels around Taiwan. On Thursday, the number of aircraft dropped to 33, and the ship count remained the same. Similarly, 30 PLA aircraft deployed near Taiwan accompanied by nine sea vessels.
The flyovers included several single-engine Chengdu J-10 Vigorous Dragon fighter jets and twin jet Shenyang J-16 strike fourth generation multirole strike fighters. The PLA also flew several twin-engine Xian H-6 bombers in a loop formation south of Taiwan.
Whether the recent increase in fighters, bombers, and ships is a response to the HKE drills remains unclear. A quick review of the Defense Ministry reports shows routine instances of one-day spikes in PLA aircraft and naval vessels around Taiwan. For instance, 26 aircraft and seven naval vessels were detected on July 1, and 29 PLA fighters and 10 jets entered Taiwan airspace and waters on June 22.
Either way, US lawmakers appear to be taking the looming Chinese threat against Taiwan seriously. On July 11, the Senate Armed Services Committee filed its draft of the annual National Defense Authorization Act. It contained provisions to strengthen American defense cooperation efforts with the tiny island nation to the tune of nearly $900 billion. The full Senate is expected to open debate on the measure soon.
Copyright 2023, RepublicanPress.org