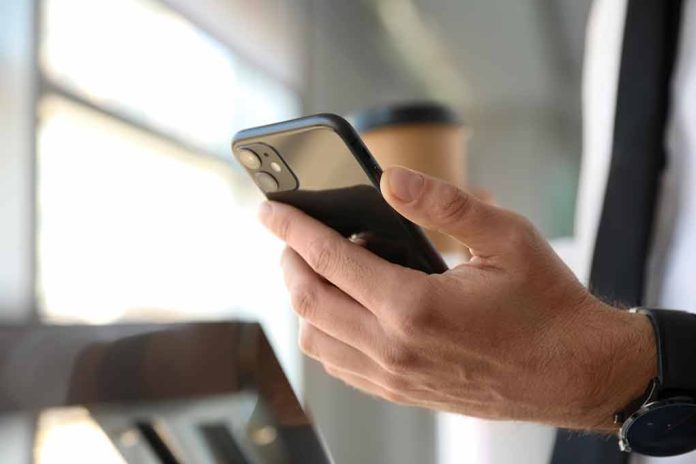 (RepublicanPress.org) – According to data from Statista of Apple's revenue, the Americas, Europe, and Greater China are the company's three biggest customers. Although net sales in the United States outweigh the other regions, those markets are significant consumers of the brand. That means if any of the three decide to pull back on Apple's products, the company could lose a significant amount of money. On September 6, The Wall Street Journal reported that China has been restricting iPhone use by government officials within several agencies. Now, more companies in the Asian nation are jumping on board, and recently Apple's stock has dropped.
What Happened?
According to The Wall Street Journal, sources close to the matter said China specifically ordered officials working at central government agencies to stop using iPhones and other devices for work that weren't manufactured in the country. The directive even went so far as to order them not to bring the devices with them into the office at all. The news outlet said China has been ramping up efforts to keep sensitive information within its borders — a difficult task in the age of technology. Apparently, Beijing is on a mission to reduce its reliance on foreign devices and beef up cybersecurity efforts.
Restrictions on iPhones at some government agencies in China are reportedly nothing new. However, WSJ reported that sources say the country is ramping up its efforts. Bank of America analysts found the timing "interesting," stating the news is happening at the same time Chinese manufacturer Huawei released its new smartphone.
Apple's stock reportedly dropped 3.6% on the news, making the investment the worst performer of the day on the Dow. By the end of the day, the stock leveled out, landing down 2.9%. The iPhone company has reportedly cooperated with China over the last few years to accommodate the country's laws in hopes of keeping the market there thriving. But the latest move, coupled with Chinese leader Xi Jinping's crackdown on espionage, make Apple's future in the country uncertain.
What Happens Next?
The US and China have been in a back-and-forth battle over technology. The Biden administration pioneered the CHIPS and Science Act, aimed at lowering America's reliance on other countries for semiconductors in lieu of manufacturing them right here at home. The Asian nation's efforts to encourage its population to choose technology made within the country follows the same vein.
In 2021, the administration allowed the Commerce Department to ban certain technologies from China, in the interest of national security. It appears that China has the same idea. Apple has not released a statement about the matter, so it's unclear what next steps, if any, it might take to lessen the potential impact of the restriction.
Copyright 2023, RepublicanPress.org