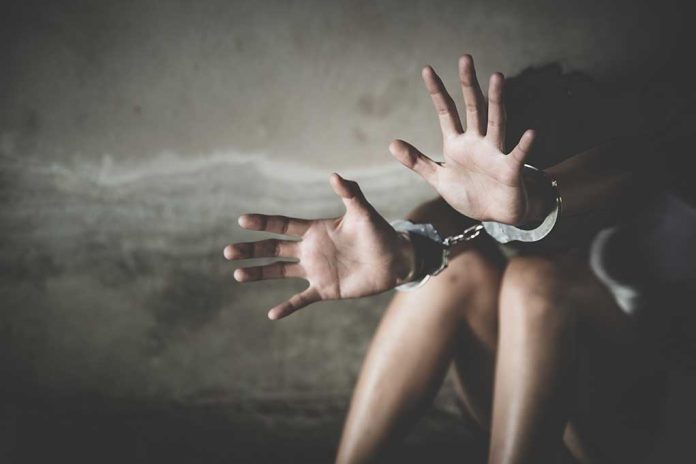 (RepublicanPress.org) – Social media outlets erupted in outrage at the end of January after a video of a Chinese woman appeared online with a chain around her neck while exposed to the elements. The woman seemed confused and wore light clothing despite the freezing temperatures. A few weeks later, government officials in the Chinese province of Jiangsu announced the launch of an investigation. Chinese authorities recently released information regarding the status of that inquiry.
On Wednesday, February 23, the Associated Press reported officials had confirmed the woman's identity. According to them, the woman was born in a small village in Yunnan Province in 1977 and married in 1995. She divorced two years later and has been trafficked multiple times since then. Reports say the woman's full name is Xiao Huamei.
Freelance "citizen journalists" have been the ones digging into a horrible mystery that's gripped China, eclipsing online attention for the Olympic Games.

A sign that curiosity/thirst for truth exist everywhere – but a free press is often missing.https://t.co/tTOxq1yHV4

— Emily Feng 冯哲芸 (@EmilyZFeng) February 17, 2022
According to authorities, a woman surnamed Sang purchased Xiao in 1998. She transported her roughly 1,200 miles and sold her to a man in Donghai County for the equivalent of about $800. She later appeared in nearby Feng County after disappearing for a short span.
According to authorities, traffickers sold the woman at least three more times, although investigators are still sorting out the timeline of events surrounding her years-long ordeal.
Chinese officials reported the termination of eight low-level government officials and the detention of three others for their failure to act in the public's interest and falsifying information. In addition, six other officials received demotions or other forms of administrative punishment.
Copyright 2022, RepublicanPress.org