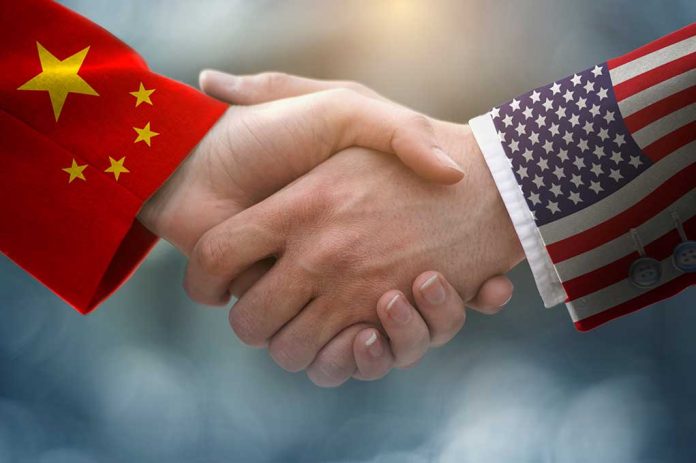 Huge Deadline May Be LOOMING For China – The U.S. Isn't Kidding
(RepublicanPress.org) – During the previous administration, Republicans and Democrats reached across the aisle and voted unanimously to pass the Holding Foreign Companies Accountable Act (HFCAA), expanding the 2002 Sarbanes–Oxley Act which mandated certain accounting and reporting practices for companies. Former President Donald Trump signed the measure on December 18, 2020. Reportedly, the People's Republic of China (PRC) is experiencing difficulty complying with the HFCAA's requirements.
The act requires certain issuers to disclose information to the Securities and Exchange Commission (SEC) regarding foreign jurisdictions that prevent the Public Company Accounting Oversight Board (PCAOB) from inspecting or thoroughly investigating audit reports on companies headquartered overseas. Companies that fail to comply with the HFCAA's terms will be banned from being listed on the exchanges.
The HFCAA also requires issuers to certify that foreign-held companies aren't owned or controlled by a government entity. Similarly, the act requires each covered issuer to disclose the names of any Chinese Communist Party (CCP) board members of the issuer or its operating entity.
China May Only Have Weeks to Reach an Agreement With US Officials to Avoid Delisting on Exchanges
On Tuesday, May 24, The Wall Street Journal (WSJ) published an in-depth analysis of recent Chinese efforts to comply with HFCAA. According to the WSJ, Chinese officials have spent more than a decade preventing US regulatory inspections of PRC-based companies' auditors.
However, China has radically shifted its position to prevent the mass delisting of companies like the Alibaba Group and Baidu from US stock exchanges. The bans aren't set to go into effect until March 2023.
Due to the complicated nature of negotiations and compliance, the WSJ reported that Chinese companies might only have weeks to reach an agreement with SEC regulators. China also faces the emerging reality that US officials could shorten the timetable for HFCAA compliance.
The China Securities Regulatory Commission (CSRC) released several statements over the last few months claiming progress in negotiations with its US-based counterpart, the SEC.
The CSRC also sent a statement to the WSJ claiming the "negotiation process is going smoothly" overall. It also said Chinese and American officials are maintaining "close communications and are committed to reaching collaborative arrangements" that comply with regulations in both countries.
On the other hand, officials from the PCAOB had a more reserved response to the negotiations in a statement sent to the WSJ. "Speculation about a final agreement remains premature," they stated. It also noted that concluding talks alone "will not… satisfy the requirements of the HFCAA."
Copyright 2022, RepublicanPress.org