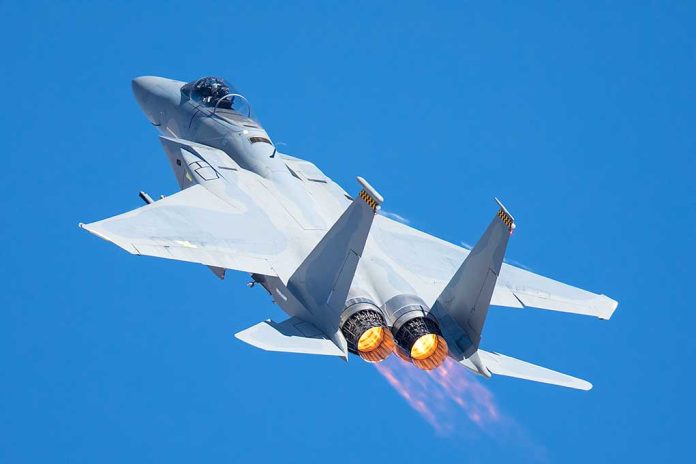 (RepublicanPress.org) – A senior defense official and a senior military officer held an off-camera press briefing on February 4 to update reporters on the status of a high-altitude Chinese surveillance balloon that crossed into US air space on January 28. They advised that an F-22 fighter jet engaged the unmanned aircraft off the coast of South Carolina and shot it down with a single air-to-air missile on the instructions of President Joe Biden earlier that afternoon. As one might expect, officials with the People's Republic of China (PRC) quickly issued an angry response.
Within hours, the Chinese Ministry of Foreign Affairs issued a statement condemning and protesting the "US attack on a civilian unmanned airship." The notice explained that PRC officials had advised the US that the balloon's entry into United States airspace was "totally unexpected." It also said the ministry "clearly asked" the US to approach the incident in a "calm, professional, and restrained manner."
Really???

China accuses US of indiscriminate use of force over balloon. https://t.co/LNHYX3prdm

— CJ4America (@GrammyC4Zone) February 6, 2023
Continuing, the statement accused US officials of committing a "serious violation" of international norms and warned that the PRC reserved the right to take further action "if necessary."
On February 6, Vice Foreign Minister Xie Feng submitted a formal complaint to officials at the US Embassy in Bejing regarding the US strike. A Foreign Ministry press release explained that Xie Feng stressed the fact that unforeseeable circumstances ["force majeure"] caused the "unmanned civilian aircraft" to wander into US airspace.
Nevertheless, the US allegedly turned a "blind eye" to that fact and used force to down the balloon, presenting a serious violation of the "spirit of international law" and other global norms. He concluded his remarks by warning that PRC officials would continue monitoring the situation and would resolutely defend "China's interests and dignity."
While the long-term fallout from the incident remains unclear, on February 3, the State Department announced that US Secretary of State Antony Blinken canceled a scheduled trip to China.
Copyright 2023, RepublicanPress.org