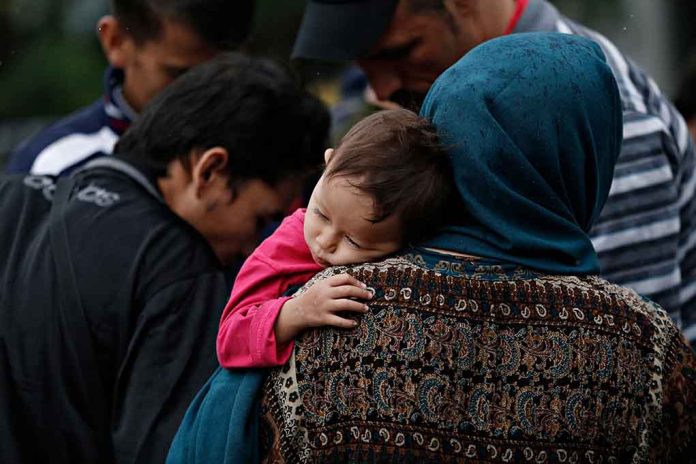 (RepublicanPress.org) – In November, Republican Press reported on the ongoing search for a two-month-old Afghan baby, who disappeared after his parents handed him over a fence to a US soldier at Kabul's Hamid Karzai International Airport on August 19. Thankfully, the story finally has a happy ending.
Officials located Sohail Ahmadi in November after media outlets published an article and photographs of him. As it turned, Hamid Safi, a 29-year-old taxi driver, found Sohail at the airport and decided to raise the child as his own.
Afghan officials and Sohail's family members negotiated and pleaded with Safi for several weeks. Eventually, Taliban police officers arrested him, and he finally turned the baby over to relatives, including a grandfather, who had remained in Afghanistan after the chaotic US withdrawal. Sohail's relatives told reporters they would work to reunite the baby with his parents, who ended up evacuating to the United States.
"I was so sad and always crying for my baby."

Afghan baby, Sohail Ahmadi, that was lost in Kabul airlift chaos has been reunited with relatives https://t.co/uFtvRVqIW0 pic.twitter.com/V36tr3WjVr

— Al Jazeera English (@AJEnglish) January 10, 2022
Mirza Ali Ahmadi, Sohail's father, worked as a security guard at the US Embassy in Kabul. He told reporters late last year that he and his wife Suraya handed the baby over an airport wall to a uniformed US soldier out of fear that the young child would get crushed by the crowd of people trying to flee Afghanistan.
With all the tragic stories coming out of Afghanistan in recent months, it's nice to finally have some good news from the war-torn country.
Copyright 2022, RepublicanPress.org