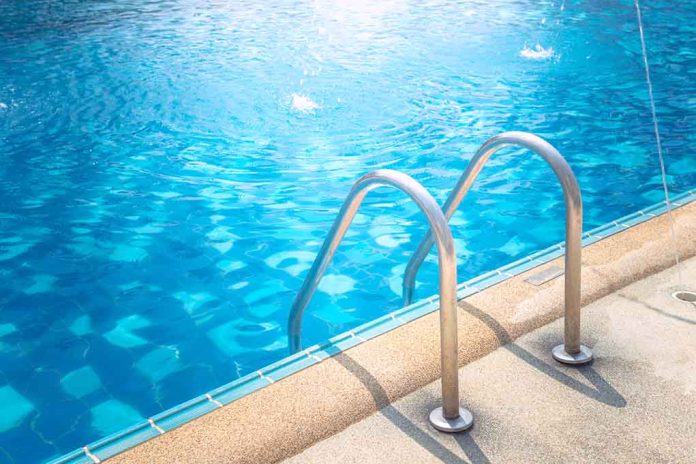 Mother Has MEDICAL EMERGENCY – 10-Year-Old Boy Rushes In!
(RepublicanPress.org) – Swimming is safest when there is a lifeguard around. If one isn't available at a private pool, it's essential to use the buddy system to ensure someone can help if anything goes wrong. Fortunately, an Oklahoma boy was there to help when his mother suffered a seizure while swimming in the family's backyard pool on August 6.
Stunning security camera footage captured the instant 10-year-old Gavin Keeney saved his mother, Lori's life. Footage shows her struggling to keep from going underwater. Gavin quickly sprung into action, racing across the yard and diving into the above-ground pool.
A 10-year-old in Oklahoma was recognized by a local police department after his quick thinking helped save his mother's life.

A loving and courageous son 💖#motherandson #save #motherslife #gavinkeeney #lorikeeney #seizure #america #people #son #mother pic.twitter.com/xJl5NUIKIG

— Talk Radio 107.7 FM (@TalkRadio1077) August 29, 2022
Gavin promptly pulled his mother to a ladder mounted to the side as he was too small to pull her up to safety. He stepped up a couple of rungs on the ladder and held his mom's head above the water until his grandfather showed up to help.
On August 23, the Kingston Police Department honored young Gavin with a certificate and ceremony for his ability to keep a cool head. A post on the department's Facebook page praised Gavin's "quick actions," affirming that his mother is "still alive to this day," thanks to his heroic deed.
As a footnote, Gavin's mother told Fox News Digital that her son also helped save her life about 18 months ago when he called 911 and attempted to perform the Heimlich maneuver when she choked on some food.
Copyright 2022, RepublicanPress.org