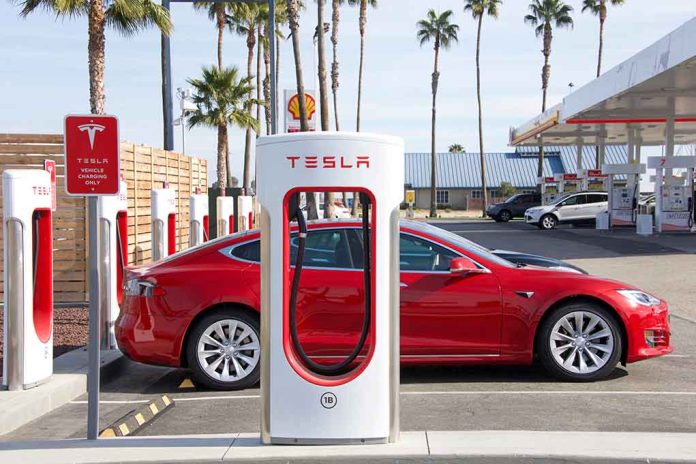 EV Sales UP, Charging Stations In Short Supply
(RepublicanPress.org) – Environment-conscious Americans encourage car owners to purchase electric cars (EV), saying they will lower carbon emissions, reduce oil use, and lower gas costs. However, the industry continues to suffer from an overall lack of access to charging stations nationwide compared to the number of electric cars manufactured and sold.
As EV Sales Surge, Building of Charging Network Stalls https://t.co/3CKVg64Gz4 via @newsmax

— Chris 🇺🇸 (@Chris_1791) May 30, 2022
Part of the problem lies in the fact that states can't seem to agree on how to spend available funding. President Joe Biden's Bipartisan Infrastructure Law earmarked nearly $7.5 billion for the creation of a national EV charging network back in February 2022. However, it isn't yet clear just how much of that money is being utilized thus far.
Volkswagen also sent out a total of $424 million out of a total of $2.6 billion in funding for EV network development. That money stems from a civil enforcement case in which complainants accused the company of cheating on emissions tests. States have apparently accessed and used just 48% of available funding, according to a May 30 Wall Street Journal report.
After receiving the funds from Volkswagen, Texas distributed $21 million. Residents claimed the entire fund in just one minute. Texas Born (TXB) CEO Kevin Smartt told EvTech.us that his chain of convenience stores was shocked by the feeding frenzy and was ultimately too slow to secure any funds. TXB originally intended to add charging stations at up to 15 locations in Austin.
Six states have yet to use the allotted funds to create charging stations to service owners of EVs.
The lack of EV charging stations hold the entire industry back. Poorly planned-out grant distribution processes not only hold up development, but also weed out major players, including TXB. Reports suggest that issue must be resolved if states want to achieve long-term goals.
Copyright 2022, RepublicanPress.org