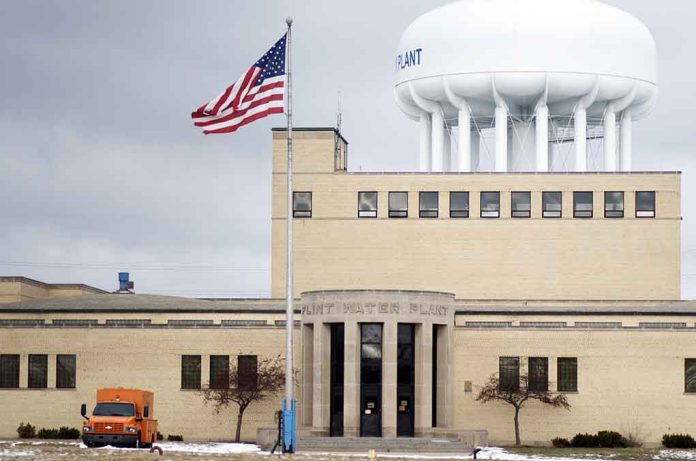 7 Cases Involving Flint Water Crisis Get Dropped
(RepublicanPress.org) – Eight years ago in Flint, Michigan, officials changed its residents' water supply source to the Flint River to save money. Then, lead-contaminated water flowed into people's homes for 18 months, causing many sicknesses and at least a dozen deaths. Those affected filed a lawsuit against several officials they felt were responsible for the tragedy, and many were indicted for crimes.
On October 4, Judge Elizabeth Kelly dropped the cases against seven of the accused. The Michigan magistrate said the indictments were issued by a one-judge grand jury that had no authority to do so. As a result, the charges were invalid and "irreconcilably tainted," according to her order.
A Michigan judge dropped felony charges against 7 officials linked to the Flint water crisis — including 2 charged for the deaths of 9 people.

100,000 people were exposed to lead when the city changed its water supply to cut costs. Activists say: "Not one person is behind bars." pic.twitter.com/oQ46gO0rKI

— AJ+ (@ajplus) October 5, 2022
Nick Lyon and Eden Wells faced up to 15 years in prison for the involuntary manslaughter of nine people. Richard Baird and Jarrod Agen could have also spent the same amount of time behind bars for perjury. In addition, Gerald Ambrose, Nancy Peeler, and Darnell Earley saw relief from their charges; both were charged with felonies for their alleged crimes.
Former Michigan Governor Rick Snyder still has outstanding misdemeanor charges against him for neglect of duty. He could spend some time in jail if found guilty, but his attorneys asked for his indictments to be thrown out as well because they also came from a one-judge grand jury.
What do you think about this development in the Flint water tragedy?
Copyright 2022, RepublicanPress.org