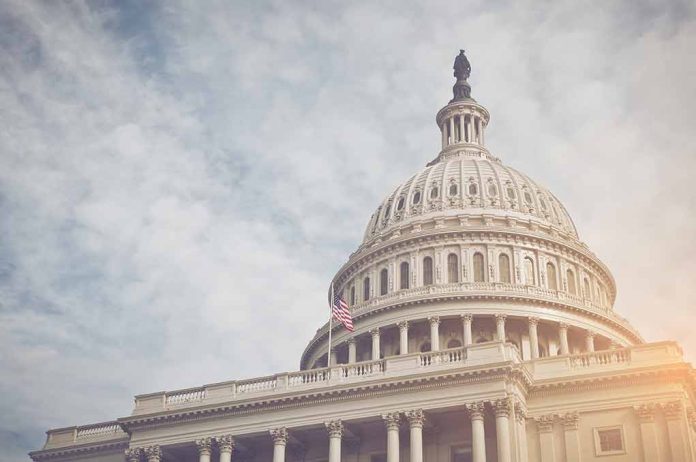 (RepublicanPress.org) – Rep. George Santos (R-NY) has faced extraordinary challenges since assuming office in January. Republican Party officials attempted to push him out of office after allegations emerged he embellished his qualifications for office on the campaign trail. Then, in May, a federal grand jury indicted him on 13 criminal counts related to the alleged theft of public funds and wire fraud. Now, Santos faces a new primary challenger for the current campaign cycle.
On July 25, Michael D. Sapraicone issued a press release announcing his candidacy for the Republican nomination for New York's Third Congressional District. The retired NYPD detective and current Nassau County businessman is a familiar face to many, having regularly appeared as a security expert on CNN, Fox News, MSNBC, and NBC's Today Show. He also hosts a popular local radio program, "Mike Sapraicone's Street Smart," on Long Island News Radio (WRCN-FM).
This former @NYPD detective will primary @RepSantosNY03

Michael D. Sapraicone Announces Republican Campaign for New York's 3rd Congressional District@MikeSapraicone #Queens #Longisland #NYC pic.twitter.com/0ncXd4Pl2c

— Angie Wong (@angiewong) July 25, 2023
Noting his two decades of service as a law enforcement officer, Sapraicone said he was seeking office to "return integrity and a respected voice" from New York to the US House of Representatives. Likewise, Sapraicone said he would focus on important issues like border security, public safety, and fiscal responsibility if elected to office.
Sapraicone also talked about Santos without calling his primary opponent out by name. He noted that Third District residents were being "unfairly neglected." He promised to prioritize their needs, making "constituent service… a cornerstone" of his campaign and time in Washington as their representative.
"I will be there for them," Sapraicone proclaimed. "Whether it's helping a resident get a passport" or ensuring the district's communities get their "fair share" of federal funding, he would support the people, he promised. He also vowed to work across the aisle with Democrats to accomplish his legislative goals.
According to the press release, several voices within the community spoke out about Sapraicone's qualifications. For example, the head of the NYPD Detectives' Endowment Association praised the candidate's longstanding "dedication to service [and] public safety," adding that he was the "right person with the integrity" to serve in Congress.
Several others offered praise, including former Sen. Alfonse D'Amato (R-NY); Bernadette Castro, former NY State Parks, Recreation and Historic Preservation commissioner; and Angelo Vivolo, the current head of the Italian Heritage Coalition.
Copyright 2023, RepublicanPress.org