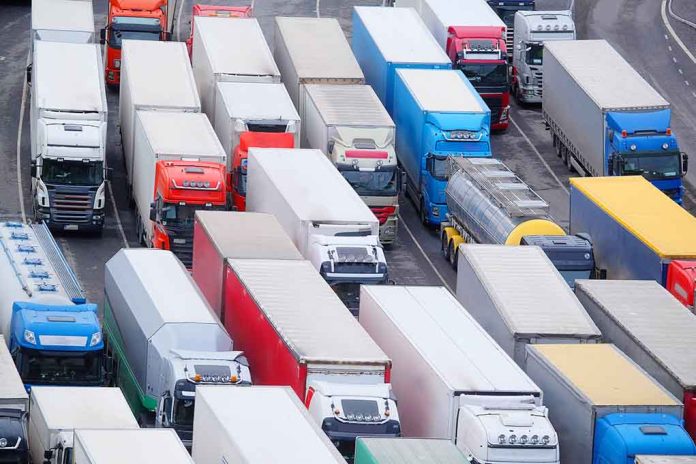 Controversial Law BAFFLES Truckers – More Supply Chain Issues Ahead?
(RepublicanPress.org) – Sometimes, the best of intentions can lead to questionable results. Such was the case with California's ill-fated 2019 Worker Status bill (AB-5), which amended the state's labor and unemployment statutes to redefine employees and independent contractors. Although legislators intended the law to protect employees from getting misclassified as independent contractors and losing benefits, some have argued that the law created more problems than it solved.
For example, the law limited freelance writers to submitting 35 articles per year as contractors. As a result, an untold number of freelancers quickly lost their contracts due to workplace limitations on the number of employees. Artists, musicians, and other workers suffered a similar fate.
The situation got bad enough, quickly enough, that the California legislature passed a supplemental bill (AB-2257) in 2020 to remedy the problems created for freelance contractors by AB-5 and provide exemptions to a wide array of professional fields. However, recent reports indicate that truck drivers continue suffering the impact of the law.
Controversial Worker Law Continues Creating Problems for California Truckers
On July 8, Bloomberg published an in-depth article detailing the plight of California truckers. According to the report, approximately 70,000 owner-operators find themselves "in limbo" as certain aspects of AB-5 start applying to their industry.
Journalists spoke with several truckers who said they don't know how to satisfy the law's three-pronged test to remain classified as independent contractors. As written, that portion of the legislation does appear unnecessarily vague in defining that criterion.
Known as an "ABC" test, AB-5 requires truckers and other independent contractors to satisfy all three portions of the test. According to that legal standard, truckers and other independent contractors must:
(A) Be uncontrolled by the person or company who hired them while performing their duties
(B) Perform tasks outside the standard daily workflow of the hiring person or company
(C) Independently be engaged in the same kind of work they are being contracted to do.
AB-5 briefly went into effect in the trucking industry on January 1, 2020. However, the California Trucking Association (CTA) quickly filed a lawsuit to exempt truckers from the measure's enforcement.
Los Angeles Superior Court Judge William Highberger sided with the truckers and granted CTA's requested motion for a preliminary injunction within days. He ruled that enforcement of the ABC test against truckers went against the 1994 Federal Aviation Administration Authorization Act, which mandated that the use of independent owner-operator contractors should apply to truck drivers in all 50 states.
California Trucking Association's Unsuccessful Bid To Block AB-5
In April 2021, the 9th US Circuit Court of Appeals reversed the lower court's decision to grant the preliminary injunction, and the CTA filed an appeal with the US Supreme Court (SCOTUS) four months later. Then, on June 30, 2022, the nation's highest court officially declined to hear the case.
The CTA issued a statement later that day regarding the SCOTUS' decision to deny cert. The association predicted enforcement of AB-5 would have "devastating repercussions" on the nation's "already fragile supply chain, increasing costs and worsening… inflation."
Do you think the impact of HB-5 on truckers could increase the prices you have to pay for items where you live?
Copyright 2022, RepublicanPress.org