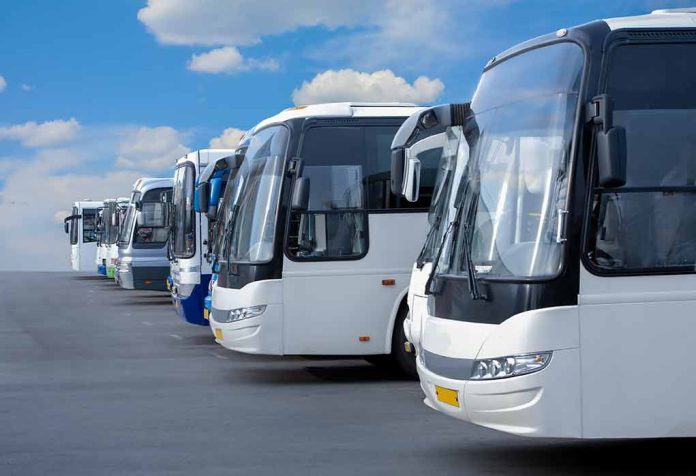 (RepublicanPress.org) – The Big Apple's streets are filled with buses daily between New York City's Metro Transit Authority (MTA) and private companies offering tours. Unfortunately, a collision between two buses left dozens of people injured in its aftermath.
On the evening of July 6, a double-decker tour bus operated by TopView Sightseeing crashed into an MTA bus on its usual route. The exact number of individuals injured as reported by national news organizations, local media outlets, and New York Fire Department (FDNY) sources was conflicting.
Nearly 80 Hurt In NYC Double-Decker, MTA Bus Crash https://t.co/moiI3uXSGw

— Mike Redenburg Esq (@MJRESQ) July 7, 2023
For instance, CNN reported emergency medical service (EMS) workers transported 18 people to area hospitals for non-life-threatening injuries. EMS Division 1 Deputy Chief Paul Hopper said an additional 63 individuals at the scene required an assessment from medical personnel at the scene. Meanwhile The New York Post reported that 27 people were transported to the hospital and about 50 others were injured.
However, the FDNY issued a statement the following day confirming that 67 people received medical evaluations at the accident scene. Thirty-two of them ended up requiring hospitalization for their injuries.
The cause of the crash remains under investigation. Local ABC affiliate WABC reported that FDNY officials confirmed the double-decker tour bus drove through a red light and t-boned the MTA vehicle at the intersection of East 23rd Street and 1st Avenue at around 7:00 p.m. local time.
MTA President Richard Davey confirmed a preliminary inquiry indicated the tour bus was traveling at an excessive rate of speed. He said the TopView bus hit the MTA vehicle so hard that it "bounced off" and struck it again.
Davey also said that TopView's bus impacted the MTA vehicle so hard that it blew its windows out, but since it was a commercial vehicle, it could absorb much of the impact's shock.
Davey said officials took statements from passengers. They reportedly said the driver had been "driving erratically, or worse," that evening. He ended up receiving a citation for running a red light. The MTA confirmed its driver was a 15-year veteran with an exemplary driving record.
Copyright 2023, RepublicanPress.org