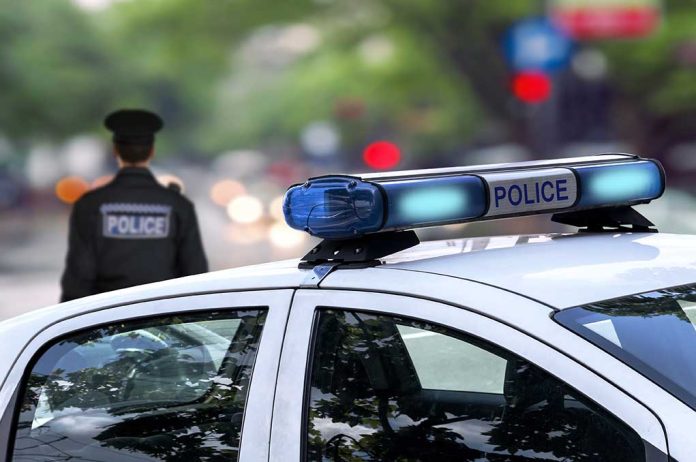 (RepublicanPress.org) – Statistics released last year by the US Department of Transportation's National Highway Traffic Safety Administration showed there were over 5.2 million non-fatal car crashes in America in 2020. Some of those accidents resulted in property damage, but it's unlikely many cars involved in these collisions ended up on the roof of someone's home. But that's exactly what happened recently in Pennsylvania.
On August 6, 20-year-old Evan Miller reportedly drove his car off the road and into a home — on purpose. While hitting a house with a vehicle might not be new, the bizarre part of the incident was that Miller's car ended up hanging off the home's second floor. The Junction Fire Company from the Decatur Township posted pictures of the unusual scene, stating emergency services arrived "within minutes," ensured the house was secure, and removed the vehicle. The fire company also helped the homeowners cover the gaping hole before leaving the scene.
A man in a speeding Toyota Corolla crashed into the second floor of a house in Pennsylvania, causing the car to become lodged in the roof, firefighters have said. Evan Miller, #BREAKING_NEWS: https://t.co/aSKRV6oqza

— World News Summary (@WorldNewsSummry) August 9, 2023
One of the people living in the home, Joan Lepley, told PennLive she heard and felt the collision. She was nearby visiting a family member when the incident occurred. When she went outside to see what all the commotion was about, she saw a car hanging off her roof. She guessed that the vehicle hit the embankment in front of her home, propelling the car upward and onto the second floor. No one was hurt but the driver.
People reported that the Pennsylvania State Police released a statement saying the investigation showed Miller meant to crash into the house. Reports initially said the driver had a "mental health episode" during the crash. Miller was taken to a nearby hospital, and police charged him with multiple driving offenses, including aggravated assault and criminal mischief.
His current condition is unknown, and it's unclear if he has entered a plea on the matter.
Copyright 2023, RepublicanPress.org