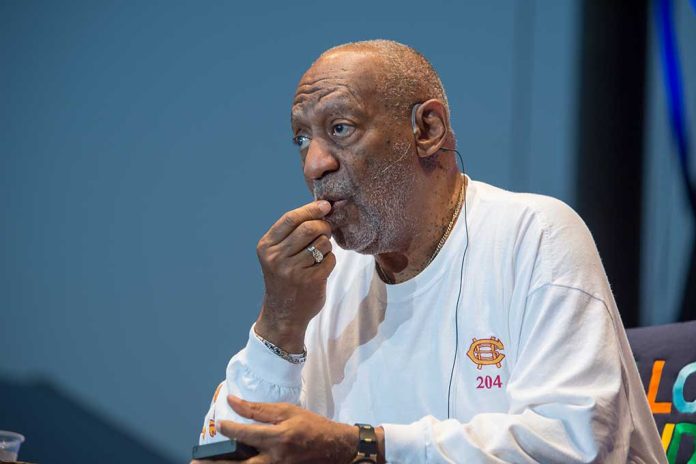 (RepublicanPress.org) – Stand-up comedian, actor, and media personality Bill Cosby's career came screeching to a halt with his conviction and subsequent incarceration for aggravated indecent assault in 2018. He served roughly three years in prison but was released in mid-2021 after the Pennsylvania Supreme Court vacated his conviction for violations of his right to due process of law under the 5th and 14th Amendments. He recently indicated he was eyeing a potential comeback tour.
On December 28, Cosby sat for a wide-ranging interview with WGH, a commercial AM radio station. Host Scott Spears asked the aging comedian if he planned on performing again in 2023, and Cosby answered in the affirmative.
Cosby told Spears he felt that when he emerged from this period in his life, he would "be able to perform and be the Bill Cosby" his audience knew him to be. Additionally, Cosby said he thought there was still "so much fun to be had" through his storytelling. He also noted that it's much better for him to perform the material live.
Variety followed up on the interview, confirming through Cosby's representative, Andrew Wyatt, that the comedian was "looking at spring [or] summer to start touring" again.
However, the legal actions against Cosby are far from over. On December 5, five women filed a lawsuit against him, alleging he sexually assaulted or abused them while working with him over a more than three-decades-long span, starting in the 1960s.
Two former actresses on "The Cosby Show" are among five women who filed a lawsuit against Bill Cosby in New York state court on Monday, accusing him of sexual assault and abuse dating back decades. https://t.co/JNVDtJLypx

— CBS Philadelphia (@CBSPhiladelphia) December 6, 2022
Three weeks later, another woman filed a complaint alleging Cosby "used his power, influence, and authority" as the head of The Cosby Show "to groom and sexually assault" her in 1986.
Although the statute of limitations expired on those cases years ago, New York lawmakers recently passed the Adult Survivors Act (S.66A), a measure allowing sexual assault victims to file civil complaints against their alleged abusers through November 24, 2023.
Copyright 2023, RepublicanPress.org