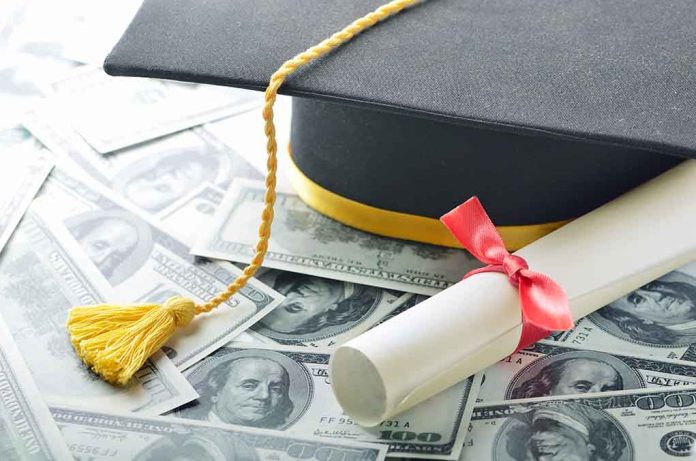 CBO Estimates Biden's Loan Forgiveness Will Cost Around $400 Billion
(RepublicanPress.org) – On August 24, President Joe Biden announced his decision to cancel some debt for millions of people with federal student loans. Republicans criticized him for the move, with at least one even accusing him of orchestrating the loan forgiveness to tilt the scales in Democrats' favor in the November midterm elections, according to The Epoch Times. A recent report from the Congressional Budget Office (CBO) revealed the price tag for the president's action could reach about $400 billion.
On September 26, CBO Director Phillip Swagel sent a letter to Sen. Richard Burr (R-NC) and Rep. Virginia Foxx (R-NC) detailing the effects of President Biden's August 24, 2022, debt cancellation and directive suspending student loan payments until 2023.
The Congressional Budget Office says President Biden's plan to forgive $10k-$20k in certain student loan debt will cost Uncle Sam about $400 billion. Full details at https://t.co/yhT60kH7rt pic.twitter.com/LdhyEuy1CJ

— Jamie Dupree (@jamiedupree) September 26, 2022
According to Swagel, the CBO estimated the cost of student loans in current value would increase by roughly $400 billion as the direct result of the president's decision to cancel student debt. He also notified the Republican lawmakers that the costs associated with outstanding loans would increase by $20 billion due to the suspension of payments for the remainder of 2022.
Sen. Burr issued a scorching press release regarding the CBO's $400 billion estimate. He said that Biden was forcing former students who had already paid off their loans and Americans who chose not to attend college to bear the cost of his debt cancellation. Rep. Foxx issued a similar statement, blasting the president for "burying taxpayers alive."
Copyright 2022, RepublicanPress.org